October 13 & 14, 2014- Hoover Wilderness
Time: 2 Days
Weather: Sunny to partly cloudy and cold.
Water Temps:
Water Level: Low
Water Conditions: Clear
Insects Observed: Hoppers on the way up to lake.
Hours fished: 6
# of fish caught: Zero.
Method: Prospecting. No fish spotted.
Set Up: 8ft 4wt made by myself, 9ft leader
Flies: Beadhead Hare's Ear, Stillwater Nymph, Black Magic
Narrative: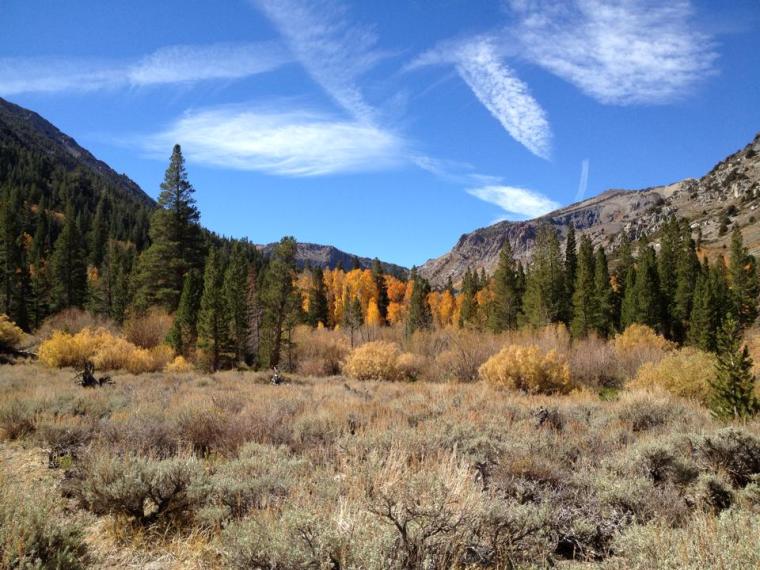 Technology in the backcountry.
A touchy subject? Maybe, probably, I've never had any personal discussion with anyone about it but I'd imagine it would be. A lot of us travel the backcountry to "switch off", get away from the stresses of everyday life, get away from people, "commune with nature".

Whether we realize it or not, using a smart phone is one of the primary stresses of modern life. It's bad enough that anyone can call us anywhere, at any time but the constant "on" of social media and email is stressful. Knowing everything, at all times, is simply not good for the soul. Not to mention the circadian rhythm disruption caused by the blue light these things emit.

Some of these thoughts crossed my mind as I pulled out my phone, checking for a cell signal this week. I remember when Backpacker Magazine first started including photosynthetic charging devices in their annual gear guide. "Why bother" I thought. " Why would anyone want to bring a phone, let along a charger, backpacking? Why carry the weight."

I can't remember when I first started carrying my phone in the backcountry or why. Its a recent thing, that's for sure. I suspect it was a "just in case" maneuver. I travel the backcountry alone quite often and carry the Spot satellite messenger, the original one, for emergencies. Perhaps it started at the bequest of my wife. I can imagine the following conversation:

Vita: "Don't forget to bring your phone,"
Me: "Why, there's no signal."
Vita: "Bring it anyway."
Me: "But there's no signal."
Vita: "I want you to bring your phone!"
Me: "Okay", adding the requisite eye rolling....

She Who Must Be Obeyed often has more wisdom than me.

My first memory of having my phone in the backcountry was on a trip for Paiutes a couple of years ago. I had forgotten my camera and at the same time forgotten to leave my wallet and phone in the car. I hate forgetting to leave my wallet. The leather becomes encased with sweat and all the paper inside wet, forcing me to dry it out in the rear window boot of my car on the drive home. I can't open my window because business and credit cards and anything light and airy fly about the place like a flock of caged birds looking for an out. I found the phone a convenient way to take pictures and what do you know? Within site of Mammoth Mountain, I got a cell signal to boot. It was a curiosity for sure, a hoot, "how crazy is that, I got a cell signal 5 miles in the backcountry."

When I upgraded my phone, it quickly became a better way to take pictures when fishing road side streams- it was faster, lighter and took better pictures. A little cumbersome for taking one handed fish pictures; but on Hot Creek... within site of the ranch .... one of the few places Vita is with me when I'm fishing .... sure I'll carry it.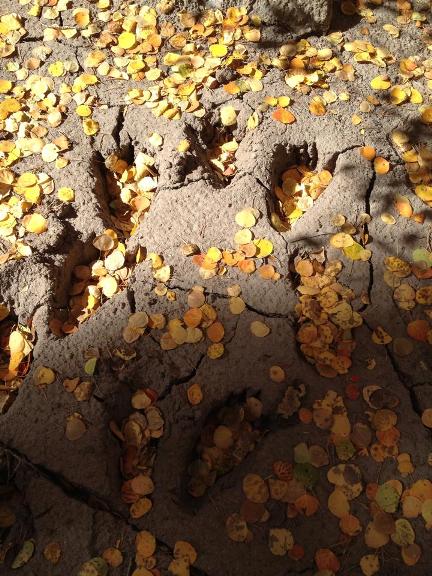 Last year I downloaded the Topo Maps app. Again, it was a curiosity. I was flying a lot and figured it would be cool to be able to peruse maps and plan trips on my iPad. It was an iPhone app, with all these cool features like geolocation and distance to a waypoint but I figured it was impractical for backcountry use because "there were no cell signals in the backcountry."

Then, on a trip to an off trail lake near Mammoth Lakes, I decided to bring my phone again and test out Topo Maps. I'd likely have a cell signal so why not. The app was invaluable. It showed me my location, distance as the crow flies to my location and more importantly the direction of travel. It worked far better than the Garmin GPS I stopped carrying over 10 years ago. Over time I've come to realize that a cell signal is not necessary to use the geolocation features of the app. It apparently works off a satellite signal and hence the app, via my phone, has become a constant in my high country travel of late. No more guessing my location on map. Simply flip open Topo Maps. It's handy; but, having a phone in the backcountry surely takes some of the adventure out of backcountry travel and it makes you bit lazy if I'm honest. No more guessing where you are by trying to triangulate your location on a map. No more route finding by feel.

"Maybe I should have left this thing in the car" I thought as I checked my phone, with my wallet in my pocket, for the umpteenth time this trip. Checking our location on Topo Maps and checking for a cell signal was becoming tiresome. Especially since to save battery power, I had switched the phone on "airplane mode". The routine became pull out the phone, unlock it, go to settings, switch airplane mode on, check TopoMaps and check for a signal (out of curiosity).

In addition, keeping my phone and map in the same pocket meant making sure one didn't fall out as I was grabbing the other. Trivial I know but not what I come into the backcountry to do and that's the point. In the backcountry, the trivial usually melts away. It heightens your senses and grounds you in the now. Your focus shifts to food, water, shelter, safety, the scenery. It's a sense of wonder with a hint of trepidation. "What's out there for me on this trip?"

I was looking at my phone more than I do at home. It was a five hour hike to the trophy trout lake in the Hoover Wilderness. I had just come from "running" a trail marathon two days prior where I blew out both the illiotibial bands on my legs and was feeling a bit tired. Despite meeting at 8am, Roger and I didn't get to the trailhead until 11am and this put us on the lake within an hour or two of dusk.



Neither of us had ever been to the lake and we found limited campsites along its undulating, rocky shoreline. The water was calm when we arrived and several fish were rising. Roger was eager to fish. I was tired and just wanted to set up camp. The ascent to the lake was 1,000 feet in the last mile with a maximum grade of 32%. I was still feeling the 4,500 feet of accent from the trail marathon in my legs. We'd planned to spend 4 days there. Plenty of time to fish. I wanted to settle in and probably made a dozen half hearted casts that evening.

After dark the wind picked up. We were somewhat protected in our tree lined, rocky campsite. Only the strongest gusts would rattle our tents but we could hear the wind whipping around the nearby peaks and through the tree tops. That and the strange gurgling sound the water made as the waves broke on the shoreline made sleep intermittent at best.

I'd hoped that the wind would subside as the sun came up but it never did. My phone was getting a better cell signal than Rogers so that morning I found a site where I got "2 bars" and checked the weather. We knew that a cold front was moving in; it was predicted that temperatures in the area would drop 20 degrees in the next two days. That would drop it from the 60's to 40's mid day and to likely below 0 at night. We were prepared, with plenty of good insulating cloths and sleeping bags but wanted to keep an eye out for snow or worse, rain in the forecast.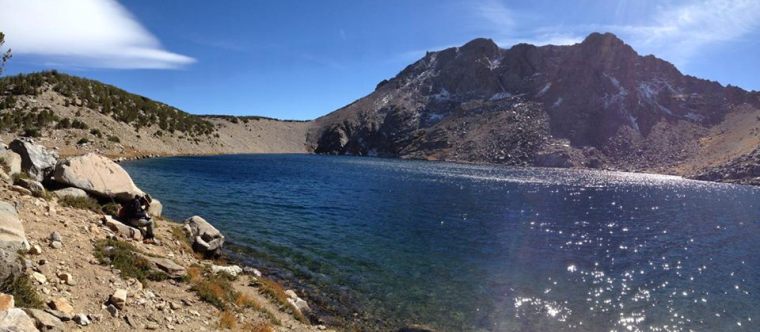 I don't recall if there was a "hazardous weather warning" banner on the Weather Underground site when I checked it early that morning but the forecast was winds to 30mph with a 10 degree drop in temps.

Fishing conditions were tough. The wind was a constant all day. Not a slight predictable wind that would have all food in the lake pushed to the lee side, setting the fish up looking into the wind and perfect for fishing British loch style. No, this was a cold, chopping wind that would change direction every other cast and likely had the fish hunkered down deep or under rocks thinking "Frigg this! I don't need to eat today!"

Roger and I dutifully walked the shoreline looking for active fish and fishing the likely spots. We 'd started early in the morning and so after fishing into early afternoon I backtracked to a little cove we'd fished earlier. The cove looked promising but I thought that we'd fished it too early in the day. It wasn't as deep as the rest of the lake, had good structure and I thought might fish better when the water had a chance to warm up.

Beyond the cove, a steep rock fall made it difficult to access the far side of the lake, so I climbed a small bluff to see if I could get around. At the top of the bluff was an almost sheer drop to the valley below. I wasn't getting around the rock fall that way. I took out my phone to take a picture of the view and out of curiosity switched off airplane mode- "3 bars".
"Un- flipping - believable!" A stronger signal than I get at home.
I checked the weather to see if the forecast had changed. A fairly thick cloud system had been inching its way toward us all morning. I wanted to make sure the chances of precipitation where still 0%. Not that, that probably matters much, the mountains do their own thing. This time however, I did notice the hazardous weather warning banner. I ignored it at first, thinking that it was a generic banner and that any real warnings would be mentioned in the forecast detail. Then I decided to check the National Weather Service site just to confirm what I was seeing on the wunderground site.
Again, a hazardous weather warning. "It couldn't possibly be for our area." I thought. The forecast was for clear and cold with winds. I decided to check it out just to see what was going on:

Urgent Weather Message
National Weather Service Reno NV
3:45 AM PDT Tue Oct 14 2014

Greater Lake Tahoe- Mono- Greater Reno- Carson City -Minden Area
Including the cities of...South Lake Tahoe...Truckee...Bridgeport ..... Mammoth Lakes.....

"Hey, that's us." I thought. I continued reading.

..... Wind advisory remains in effect from 11 am this morning to 11am PDT Wednesday ....

It repeated this line.

* Timing: WINDS WILL INCREASE THIS MORNING WITH THE STRONGEST GUSTS THIS AFTERNOON AND EVENING. STRONG WIND GUSTS WILL CONTINUE LATE TONIGHT AND INTO WEDNESDAY MORNING.

So far, nothing I didn't know. It had been windy all last evening.

* WINDS: SOUTH TO SOUTHWEST 20 TO 35 MPH WITH GUSTS TO 55 MPH. WIND PRONE LOCATIONS WILL GUST UP TO 65 MPH...WITH GUSTS UP TO 100 MPH ALONG MOUNTAIN RIDGES.

Uh-oh. That's something I didn't know. We were definitely "along mountain ridges."

Roger and I discussed it. Would our tents be able to handle 100 MPH winds? What were the wind speeds that felled all those trees during the 2011 Sierra windstorm? The temps where forecast to drop another 10 degrees. Would the fishing improve if the winds completely stopped by noon the next day? In my weakened condition, would I be able to hike out in the middle of the night in severe winds if needed?

Roger asked, "if we where catching 18 inch golden trout what would we do?"
"If we were catching 18 inches golden trout, we'd never know of the advisory, because I wouldn't checked my phone."

But we did know.

It was late afternoon but we decided to hike out. You never know what the mountains will bring. It was dark as we approached the trailhead without our headlamps. Roger had planned to hike up to another lake on Thursday but I chose to return home. I needed some recovery. The big high country trout will have to wait until next season.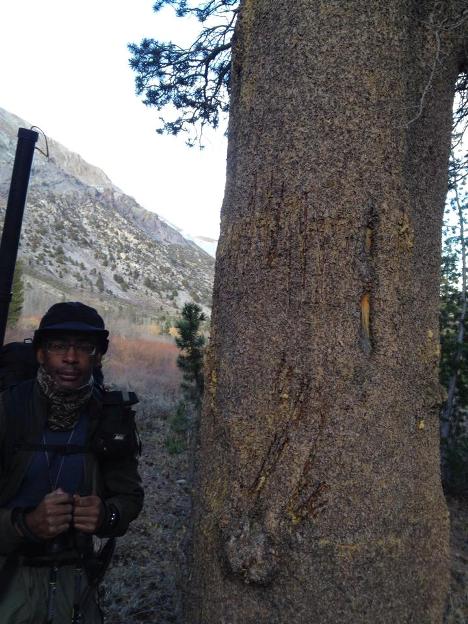 . Next Hoover Wilderness Chronicle
Previous Hoover Wilderness Chronicle Chronicle Index