September 10- 20 Lakes Basin- Day 1 of 5 Days in the Sierra
Time: 10:00am - 4:30am
Weather: Sunny
Water Temps:
Water Level: Low
Water Conditions: Somewhat clear at Conness 3, very silty at Conness 1.
Insects Observed: Don't remember.
Hours fished: Hard to say
# of fish caught: Zero at Conness 3. ~6 - 8 at Conness 1.
Method: Sight Casting to cruising fish, prospecting.
Set Up: 8ft 5 in 5wt made by myself and buddy Erik, 9ft leader
Flies: I threw everything at these fish with little result...
Narrative:
Another early morning start from essentially sea level, or 63 feet above to be precise, travelling to a High Sierra destination of over 10,000 feet. My modus operandi of late, read laziness, has had me initiating trips to the Sierra the morning of, instead of the night before, as I've documented here many times. Let's face it, at 48, I need my beauty sleep if I don't get out of the house before 7pm. It's safer for me, for the deer and other folks on the road. Plus, I just enjoy the trip more when there's no one on the road.
Roger would wait for me at the Saddlebag Lake Resort or meet me at Conness Lake 3 if I was late. Thus would begin our 5 days hanging in the High Sierra. I've got the timing down when it comes to travelling from my house to Saddlebag- three hours to the Yosemite National Park and no more than an hour and a half from there to Saddlebag. Unless of course they're doing road construction, which they were. I was late.
When I arrived, Roger had already taken the boat taxi across the lake and was heading up to Conness. I thought I might catch him as I generally don't think that the boat taxi actually saves you that much time. The last time I took the boat taxi (probably about 10 years ago) it took about 30 min to take the taxi across the lake and hike to Greenstone Lake. About the same time that it takes to walk the western shore from the dam to Greenstone. Of course, in 10 years, the boat may have gotten faster or maybe I'm slower but I never did catch him.
It was an hour and 20 minute hike to meet Roger and when I got there he had already scoped out the lake and joked he was giving me about 5 more minutes before he started fishing "my spot."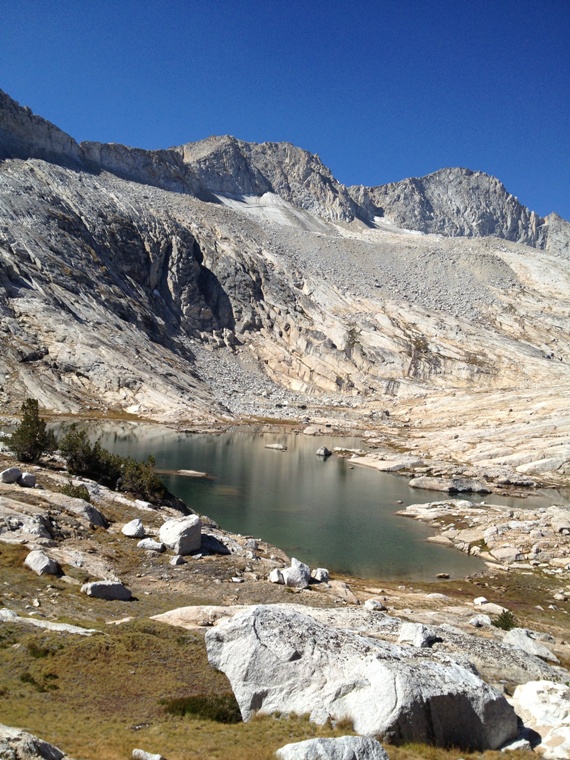 The water was low but not ridiculously so. Despite the drought, I've found that a lot of high sierra lakes had pretty acceptable levels of water in them this year. Streams not so much.
Fishing was tough though. We found very few active fish in an area that we know well and fished hard. After several hours of fishing with probably fewer than a handful of strikes between the two of us, I headed down to Conness 1.
In most years, fishing Conness 1 had been a priority but this year it's been more of an afterthought. I've had several very good trips here and feel I generally know where the fish are. Lake 3 on the other hand, I don't feel I know as well.
This year I headed to the channels at the back side of the lake 1 hoping to recreate the fast action dry fly fishing I once had here. I've never been able to duplicate that fishing, mainly I think because the water conditions haven't been just right. This year was no different. The water was too low, the currents too slow and the wind, probably too high.
As I headed back to the trail along the backside of the lake, Roger had signaled via the radios we carry, that he was heading out. I was going to follow but fish my way along the shore, casting to sighted fish. Near the big barrier rock I spotted several fish and for about 30 minutes I was able to entice them with a strip, strip, strip, pause retrieve.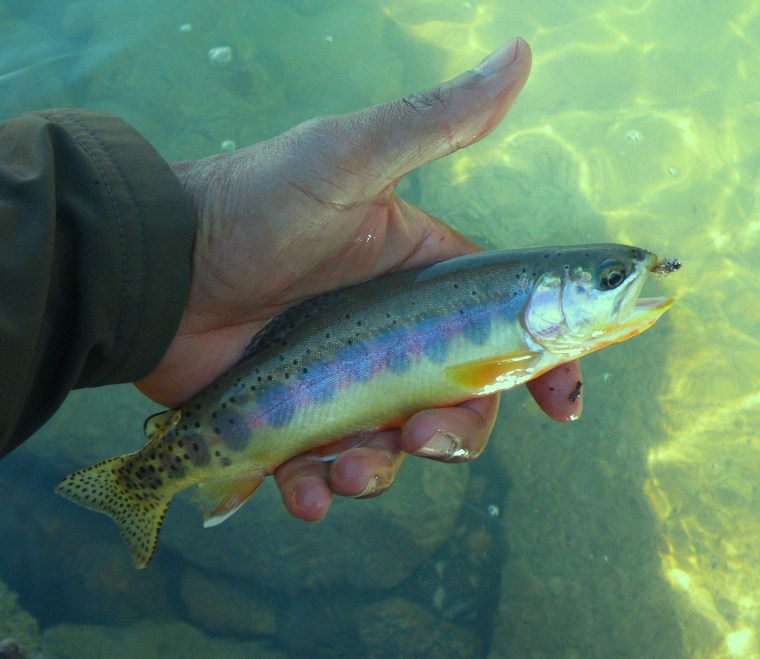 For Day 2 of the 5 Days in the Sierra please read: The Golden Trout of Lake Zuul
.
Previous Hoover Wilderness Chronicle Next Hoover Wilderness Chronicle