July 3, 2015 Cottonwood Lakes Basin
Time:
Weather: Partly Cloudy
Water Temps: Didn't take.
Water Level: Lowish
Water Conditions: slightly silty
Moon Phase: New Moon on the June 16th
Insects Observed: Large black midge. Size 16 or there abouts.
Hours fished: 5
# of fish caught: Probably double digits didn't really count and can't remember.
Size of fish caught: 8 to 13 inches landed.
Method: Sight fishing with a 12ft 6x leader.
Set Up: 8'0" Medium Action Cane 8ft 4wt rod made my me.
Flies: Caddis Cripple, BH GRHE Soft Hackle, Black Ant.
Narrative: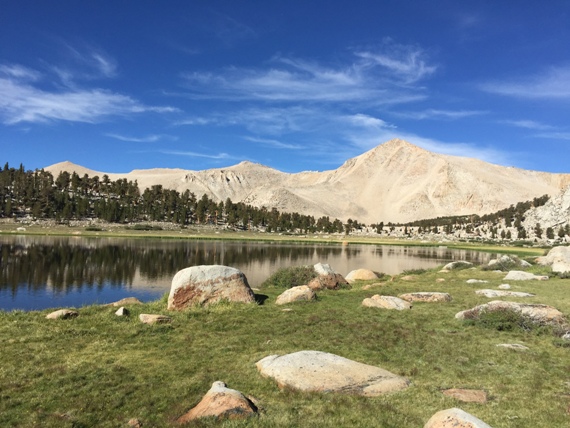 I had just driven through a lightning storm at the summit of Sonora Pass and looked on in wonder as the entire Sierra from Sonora Pass to Mammoth Lakes and down to Lone Pine appeared to be enveloped in one huge, ubiquitous storm cloud. It was ugly, ugly, ugly.
I'd essentially made the hike in and out of Emigrant Lake an overnight trip, ~30 miles round trip, and hoped the weather would be better in the south, specifically at Cottonwood Lake. I had two options. I could wait until the ranger station opened and hope I could get a permit, hitting the trail in late morning or I could simply make a day of it and hit the trail at the crack of dawn. I decided on the latter.
Cottonwood Lakes seemed like the logical destination after seeing the rest of the Sierra engulfed in a single, pillowy, black cloud. I'd felt that I'd never properly fished Cottonwood Lakes 1 and decided I needed another crack at it. I still think I need another crack at it as I didn't fish it to the best of my ability. There were nice fish to be had. I saw 'em but couldn't catch 'em.
It's 5 miles from the trailhead to the lake and I hit the trail at the crack of dawn as planned. So did about 20 other people. It was the Golden Trout Opener at the lakes but most of these folks weren't fisherman- Japanese and European tourists abound.
Cottonwood Lake 1 was empty when I arrived and as I normally do, I scoped out the lake as I ate and readied my gear. A 12 or so inches fish swam by and I took this as an omen that the fishing would be good. Shortly after I strung up my rod, two other fellows joined me on the lake. One with a float tube. I knew that there was a high likelihood that several of my friends where camped at a nearby lake this weekend and when I heard one of the fellows mention "Bob", I interrupted and asked if he was talking about the fellow that I knew. In deed he was but Bob and the others had fished the lake the day prior and had decided to fish a couple of different lakes this day. Bob is the owner of my last completed bamboo fly rod and I was pleased to find out that he still fishes it.
As the guys and I were talking a fish swam by and like a dog on a squirrel, I interrupted our conversation with "there's a fish!"
"Go for it" one of the guys said, so I pulled some line off the reel and started false casting. I'm pretty sure I had the cripple caddis on at the time but can't recall. The fish struck, I set the hook and then made the mistake of trying to play it off the reel too soon. It hadn't taken much line out and as I looked down to put line on the reel, it got away.
The guys and I talked for a bit more before heading in opposite directions along the bank. Early on I was having trouble catching fish. These fish were hyper spooky and I kept lining fish with my false casting. It was frustrating. Especially since I was seeing decent sized fish early on.
I caught my first fish at the inlet. There were a bunch of 8 or so inches fish milling about. It was shoot fish in a barrel time- shoot a cast out and one of those fish was likely to strike. My first cast went woefully off course. "I need to spend more time at the casting ponds..." I said to myself.
I finally managed a decent cast and after several follows, landed my first fish.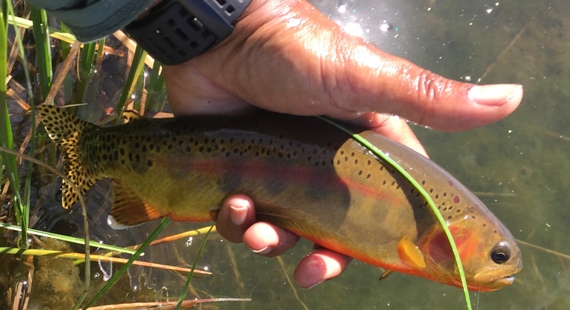 Interesting reddish spots on this golden trout.
The other guys seemed to be doing better than me, based on the occasional hoot that came from their direction. I didn't start consistently getting into fish until I hit the southern shore of the lake. The fish were rising more freely here and I was able to sight fish with a black ant. Fishing was consistent for the last two hours or so before I left but the bigger fish that I'd seen earlier in the day where no longer showing.
I fished the lake completely, making a mental note to bring my waders next time. I wet waded most of the day but cut my fishing a bit short because I started getting the chills. I haven't put my best effort into this lake yet so I'll be back to catch some of those bigger fish.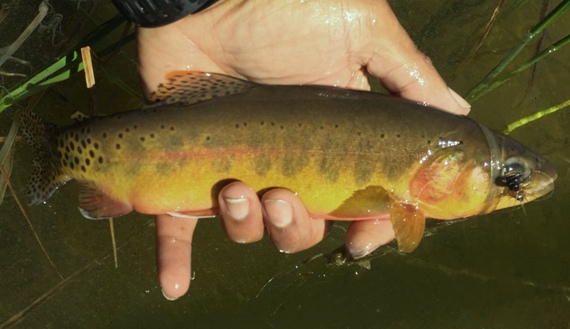 Previous Golden Trout Wilderness chronicle Next Golden Trout Wilderness chronicle