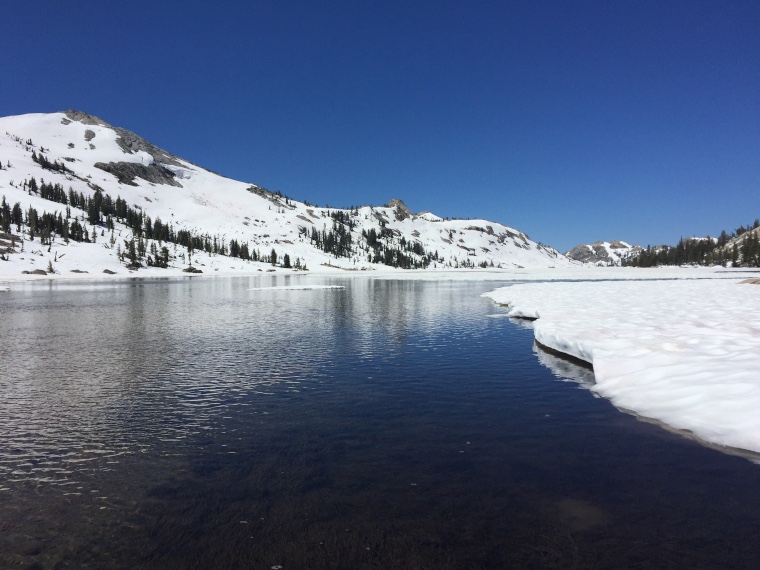 I lay in my car the night before my long backpacking trip wondering if I should follow through with my plans.
The plan- hike to Twin Lakes in Yosemite via Snow Lake and Emigrant Meadow over Brown Bear pass. I had planned to hike into Twin during my long trip last year but as my first long backpacking trip since my back issues, I didn't have the confidence or fitness to follow through. That bugged me. It bugged me a lot. It bugged me for an entire year.
This year, early season snow conditions looked to scuttle my plans. As the trip approached, numerous reports surfaced of unprecedented snow levels in the Emigrant. The reports contradicted themselves. The week prior, I'd seen pictures of what I'd recognized as Lunch Meadow completely covered by snow. The day of, I'd had been given reports from people saying they'd worked their way up to Sheep Camp and Lunch Meadow; and that, snow was only an issue beyond Lunch Meadow. This had me excited and optimistic but would ultimately turn out to not be the case. The route up to Sheep Camp was treacherous and beyond that, everything was covered by several feet of snow.
I'd come prepared. In addition to my normal backpacking gear, I carried snowshoes, heavier clothing, heavier gloves and an extra pair of socks. I also went out and purchased a new pair of water proof Altra Lone Peak RSMs and gaiters, instead of choosing to carry my NEOS overshoes with as I've done in the past. In all, I was carrying 8 to 10lbs of additional gear.
I'd also developed a possible "Plan B" for my trip. If things were too bad, I'd head to Emigrant Lake over Mosquito pass, which is lower in elevation than Brown Bear pass. If hiking to Twin appeared to be too tough from Emigrant, I'd head to Buck Lakes. I informed the Ranger station of my plans and they made note on my permit. Those were decisions for later.
First up was to make the trek. This was my first high country foray of the year. During most years I've had hikes in May and June to prepare me for the long backpacking trip but snow conditions and family obligations were such that I'd have very little high country conditioning going into this trip. It was tough, the lack of conditioning, the extra weight on my back and the trail conditions on the way to Summit Creek meant I was knackered well before reaching the bluff to Sheep Camp.
Trail conditions weren't terrible but the high water crossing at Relief Reservoir and the occasional snow bank and fallen timber just made it a tad more work than usual. I arrived at Summit Creek pretty beat but with the knowledge that I'd done the hike many times before and could push through and get it done.
At Summit Creek, I ran into a group of hikers that said hiking up to Sheep Camp would "be a challenge". This was the first indication that the beta I received earlier was…… "off". Hiking became more challenging. Soft snow appeared more often, forcing me to don my gaiters. When I got to the bluff below Sheep Camp it looked daunting, the majority of the trail was obscured by snow but I knew that at least one individual had made the hike and returned the week earlier and the mantra "What one man can do, another can do" entered my thoughts.
I scanned the route and saw a man and a women snow shoeing up the bluff. I presumed they were on the trail so I made a beeline in their general direction. I scaled the granite and quickly caught them at the point at which the granite almost completely gave way to steep snow banks. We were nearly to the top but came to a steep snow chute with granite on either side of it. It was a short distance, maybe 15 feet but a slip would have sent us into the side of a large granite boulder and then 40 or so feet into the trees and rocks below. The 3 of us stood looking at, pondering the route up.
My snow shoed companions contemplated their options. Reassured by their presence and the knowledge that if anything went south, someone would be able to get help immediately, I firmly planted my feet in the steep, icy snow and moved across the gap. Successfully. It was sketchy. Sketchy enough that my momentary companions decided on a another route. I hoped that I wouldn't need to do it again on the way back (I would). Once across, I was faced with the prospect of making one last snow bound push up to Sheep Camp.
I put on my snowshoes and steadily angled my way up toward the opening in the rocks that acts as the pass to Sheep Camp. When I turned around, my snow shoed companions were still trying to determine what they were going to do. I saw them descend to the very bottom of the snow chute I had just traversed and gave them a shot to let them know that I had made it safely.
It was slower going past Sheep Camp. Snow mostly but I took the snowshoes off until I reached lower Lunch Meadow. Lunch Meadow was icy snow cups and the trail was completely obscured. Not too much of an issue here, you simply head to the other side and avoid any covered water. Generally, moving water was easy to identify by the smooth, rather than cupped surface of the snow. By then, I'd found my second wind, no doubt due to the adrenaline rush of ascending Sheep Camp. It was late in the afternoon but the plan was clear, push on to Emigrant Lake and try to arrive by night fall.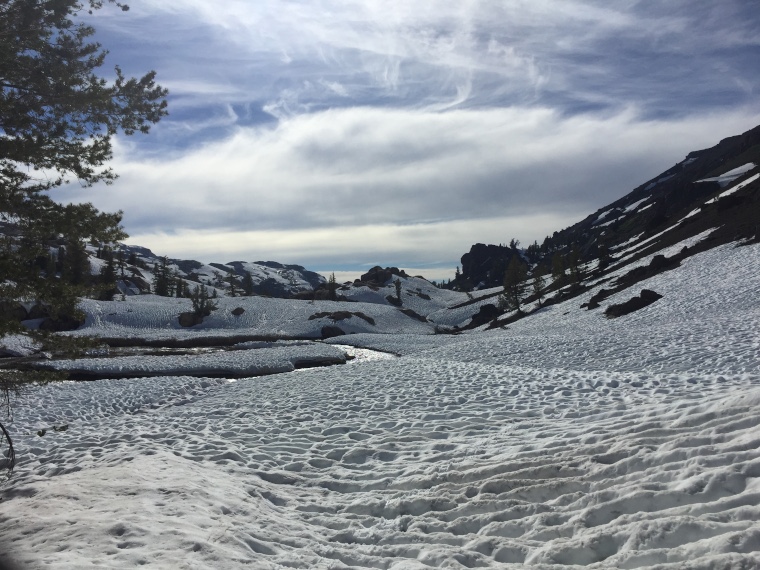 I found a snow bridge over the creek and snowshoed my way up and over Mosquito Pass. It was slow going. A hike that usually takes 2 hours took 6. I arrived within a half mile of Emigrant Lake at 11pm. The creek was too high to safely cross in the dark so I decided to pitch my tent and look for a good crossing spot in the morning.
I hadn't made any special plans for snow camping but had instead planned on using my emergency "blanket" as an extra ground cloth layer. More of a test than anything else. I was confident that between my down sleeping bag and extra cloths, I had more than enough to keep me warm if needed. I was curious if my SOL Escape Lite Bivy would work as extra insulation between me and my 3 season Thermarest Neoair sleeping and it did. The cold of the snow radiated up from through the thin material that makes up the floor of my Big Agnes UL tent, yet I slept very comfortably. I did have a temporary set back as I unpacked my tent (only in the second season of use) and found the elastic used to keep the tent poles together had failed. Fortunately, a little duct tape and I was back in business and quickly asleep.
The next morning I easily crossed the creek and made by way to Emigrant Lake.
Emigrant was completely snowed in and most of the lake still frozen. I dropped by backpacking gear at my regular camping spot assembled my fishing gear. It was obviously to snowy to trek on to Twin Lakes. The fishing conditions would dictate whether I decided to stay at Emigrant for any length of time.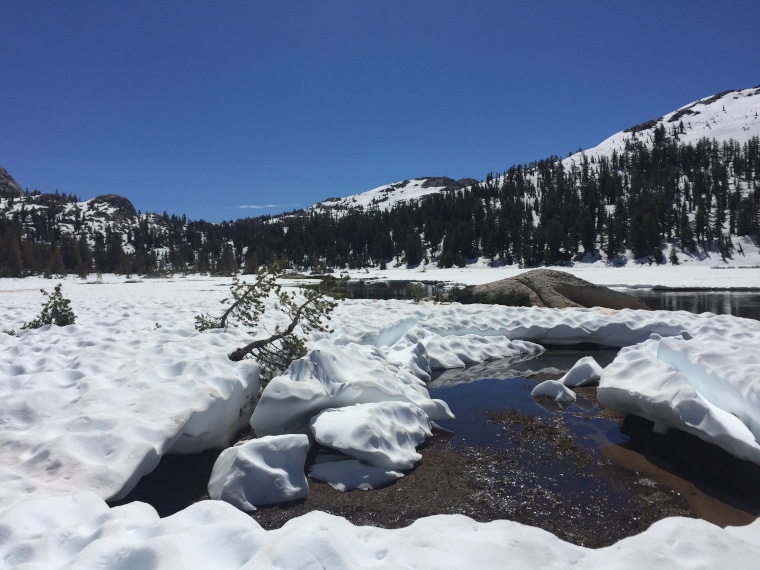 Snow still covered the meadow and hidden lakes near the inlet to Emigrant Lake. The inlet itself had ice along it's edges and beyond the inlet the lake was still frozen. That said, much of the water that I like to fish was open and fishable with careful wading a navigation of the surrounding bank.
Mosquitos were yet to hatch, which made for a pleasant but very cold visit. Unfortunately, the fish weren't active nor on station. I fished the flats, worked up the inlet a bit but saw few if any fish. Knowing this area as well as I do, I decided to cut my loses and head back to the trail head. I could be out of the Emigrant in two days and that would give me the rest of the week to fish elsewhere.
It was 6 hour of snowshoeing back to Lunch Meadow. I arrived near dusk and decided to spend the night. The next morning I was somewhat dreading the decent down the bluff past Sheep Camp. It was steep and I knew I'd have to allow the snow to soften a bit to get proper purchase with my snowshoes. Sun cups made it slow going through Lunch Meadow but the uneven and sometimes steep terrain made for great practice as I approached Sheep Camp.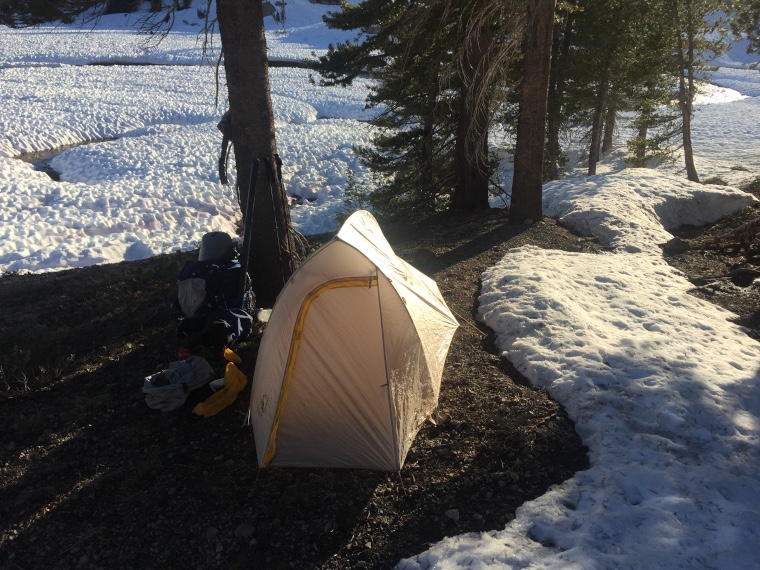 The bluff was intimidating and of course looked steeper from the top than when I had ascended it. I had contemplated simply snowshoeing down the chute immediately below the pass but I had my doubts so I decided to trace my previous route and traverse to the granite and then make the 15 or so feet across the drop. 15 feet doesn't seem like much but it was at the limit of the steepness that my snowshoes allowed me to walk down. Weight forward, leaning into the fall, my snowshoes held to the snow for all but the final few feet.
Once again on granite. I removed my snowshoes and trekked back to the trailhead to continue my trip in the Eastern Sierra, outside of Lee Vining.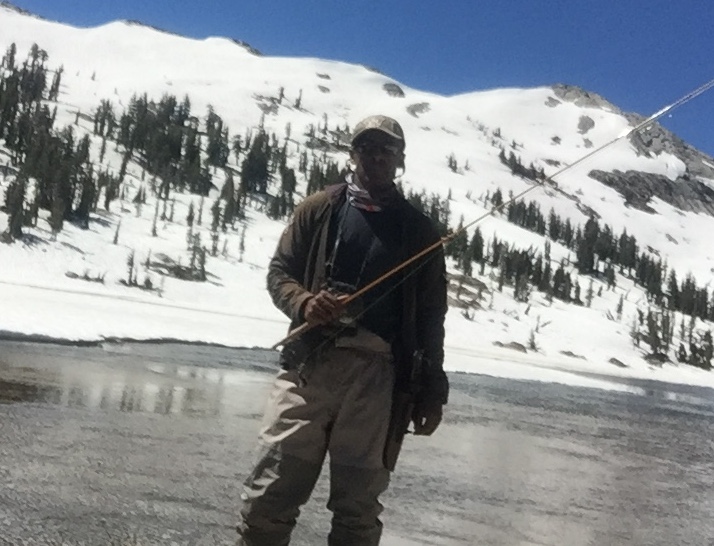 Video for this trip can be seen as the first 3 videos in this playlist: Long Sierra Trip 2019