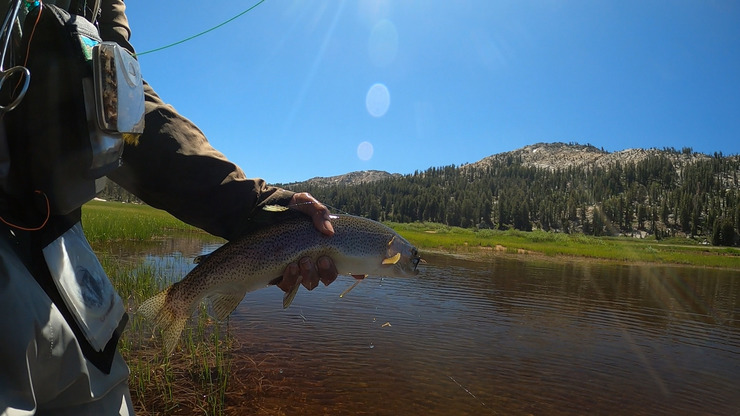 Day 3 of my 2020 long backpacking trip. Today I trekked from Snow Lake to Upper Twin Lake in Yosemite.
I came in via Kennedy Meadows to Emigrant Meadow Lake on Day 1. Conditions were not conducive to fishing as seemingly gale force winds battered the lake. I fished for 30 min.
On Day 2, hoping to escape the winds I set off for snow lake only to find much more intense winds. Winds so bad it took me over 50 minutes to set up my tent, after searching for the perfect windless campsite for nearly and hour. (There was none. ) Ironically, just as I put my ear plugs in to sleep, the wind suddenly stopped. I fished for 30 minutes and the only fish I found was one I scared up in the creek on the way in.
The next morning was cold. Frost covered the small tarn that was my camp site and my tent and pack. The wind was gone and in its place mosquitos.
I fished the eastern bank of the lake early and with it part of a small pond just below the lake.
With no fish showing I decided to head to what looked like an inlet on the far bank.
Remembering the fish that I scared up the day before. I dapped my fly into a small pool below two flat boulders. It was an easy crossing point. The stream ran between and under a slot in the boulders where the trail crosses the creek. The day before, we were both startled. He seeing me looking over the pool and me not expecting to see a fish of that size.
Today I was ready, though I almost walked over the fish before I recognized the spot.
Below the boulders the current ran under a small bush. I dapped my fly and a 13 inches brook trout was instantly hooked. I played him for a few minutes- trying to figure out where and how to land him without my line tangling in the brush. Unfortunately, I applied too much pressure and the fly slipped from his mouth.
I fished the south shore as well. The water's surface was littered with hatching callibaetis mayflies but not a single fish was rising and not a single fish took my callibaetis nymph. There were spinners as well.
I fished for 3.5 hours. Long enough to fish half the lake. My original plan was to spend two nights at Snow Lake but given the windy conditions the previous day and the frost on my tent that morning, I decided the head to twin lake.
It was a 3.5hour hike, up to the ridge above Snow Lake, gradually descending while skirting below the ridgeline between Snow and Bigalow Lakes. My last two visits to this area, I fished Bigalow but today I had no time. My destination was Twin and I knew the trail between Black Bear Lake and Twin would be tough. It's seldom used and I must have lost the trail at least 10 times. Always finding a trail duck when I'd all but given up hope.
I'm surprised by Upper Twin. Despite what the map obviously depicts as forest, I was expecting a granite lake or something more similar to the lakes in the Emigrant. Not a dense pine forest.
A light drizzle hastened my setting up camp. Fishing will have to wait for tomorrow.
End of day 3.
Day 4.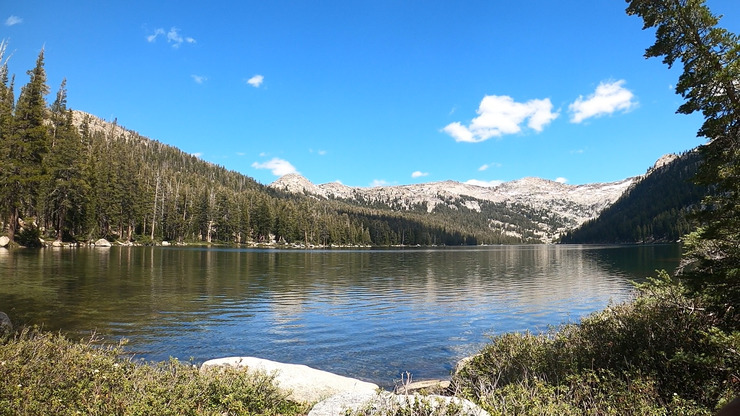 If I had any expectations of Twin Lakes, the lakes would have surpassed them. As often is the case, I didn't do any research on Twin Lakes before deciding to venture into the back side of Yosemite.
I saw the lakes on a map one day, knew it was a tough place to get into and decided "I want to go there."
Upper Twin Lakes is amazing- .a thick carpet of huge pines, fallen timber everywhere. The lower lake is rough country. It has as many rocks and boulders to traverse as the upper lake has pines and in between.... well, in between there was a trail. At some point was but there's enough fallen trees and debris that any trail is long gone.
Still, I did manage to find the destination sign on the Lower Twin side which marked the end of the trail which I could never find.....
It was worth the trek though. Lower Twin is a beautiful lake inhabited by powerful rainbows. This year I've had the pleasure of landing two 19-22 inches Lahontan Trout and a 19 inches Golden and none fought as hard as the 12 inches Rainbow from Lower Twin.
The largest fish, easily 15 inches put on an areal display before throwing the hook.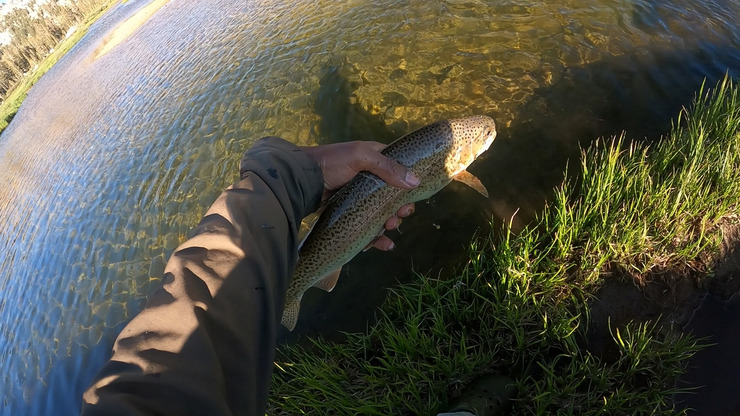 It was tough fishing. All the rock hoping and bushwhacking saw to that. In 3 or 4 hours, I found consistent fishing but covered very little of the shoreline.
I found the hike back up to Upper Twin easier and faster than expected. I anticipated that it would take 90 minutes. Instead, it took just over 30. I must have found a lucky route. One I'm sure I couldn't find again.
The fishing at Upper Twin was consistent as well and by the end of the day I felt that I'd figured out its rhythms. At least on that day. The fish were smaller than in the lower lake but fought just as hard. 10 inches fish head shaking like an untamed bronco.
The fish by my campsite near the creek cruised the shallows feeding surface and subsurface.
Farther up the lake the fish hung out near structure as the water deepened. A long pause during the retrieve was key to getting strikes. I missed more hook ups on the upper lake than the lower. Not realizing until the end of the day that my hook had bent open.
Tomorrow I plan to hike the lakeside trail as far as it will take me before heading to Emigrant Lake.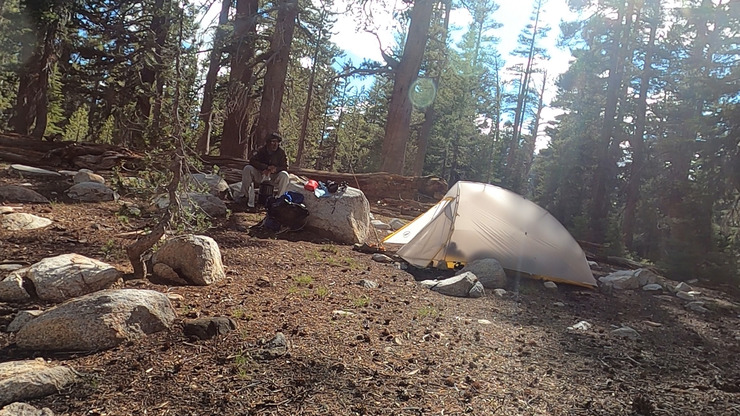 -----
What day is it? I don't know. The days lose meaning outside societal norms. A quick look at my phone says Wednesday, July 1. Could have fooled me though. I lost track of the days almost immediately. I know I came in on a Saturday. And if I count back how many lakes I've visited and nights at each, I could figure it out but it's too much work. Better to let the phone tell me and then quickly forget.
For me it's the day I explored the far side of Upper Twin and then made the ~3-3.5 hour trek from Upper Twin to Emigrant lake.
It was such a full day that it seems like two separate days.
I rose from my tent earlier than my standard 7am, ate and was quickly on the trail. I found a 3rd camp site. Have I written about the two camp sites I'd found the day before. Both established. Both with fire rings, one with benches and stacked fire wood.
I forgo fishing to make time to the far side. I can fish on the way back.
A meadow stream feeds the lake but it was barely moving. It cascades down a granite wall and then slows to a trickle. The devil bugs were thick and fast and the fishing slower than I expected. Small fish were riding in the shallows all along the shore line but on the far side I found weed beds and hoped for bigger fish. I caught several. All but one was in deep water. Perhaps I hit the weed beds to early. Perhaps the damsels were just starting to migrate as I ended fishing. With one Hail Mary cast to a weed bed as I left, I hooked a nice rainbow.
It was a day of 3 Acts. The first. Exploring Upper Twin Lake. The second the trek to Emigrant.
From Upper Twin, the first 45 min of the hike is down. Steep in some sections. I wouldn't want to attempt it in the rain. There is no easy way to this Lake as the hike in the reverse direction would be as difficult as any I've tried. Toss a coin. Hiking in from Black Bear Lake is down, but you have to get to black bear first and the hike up from Horse Meadow to Black Bear is probably tougher and then you'd have the additional descent down a poorly marked trail. Of course you can always come in from Bigalow Lake via Snow but that would add countless additional hours to the trip.
From Cherry Creek it's a hot, exposed hike until you reach the trail junction to Emigrant and some shade.
No place in the back country feels more like home to me than my campsite at Emigrant Lake. It is unfortunately starting to see a bit of vandalism of sorts. Persons carving away bark from a live tree and writing something so faint it can't be read. It has to be 18 x12 and is a quick reminder that civilization, so called, is a mere 12 mile hike or pack ride away.
The water levels at Emigrant were low for this time of year but I kept to my standard pattern- fishing a size 12 Black Gnat on the flats and then switching to a calebaetis nymph in deeper water.
It was some of the best evening fishing I can recall having here. Large brook trout seem to be showing more often and fighting aggressively. I can remember when I only caught rainbows here.
Emigrant is home, so I decided to stay an extra day and I'm glad that I did. After a morning of fishing the flats and the creek up to my camp site, I fished the north shore. Fishing on the north shore was consistent for mostly 8-11 inches brook trout. Again, it makes me wonder if they're taking over the lake. I've never seen so many brook trout.
( If you fish the lake and plan to take fish, please take the Brookies and leave the Rainbows.)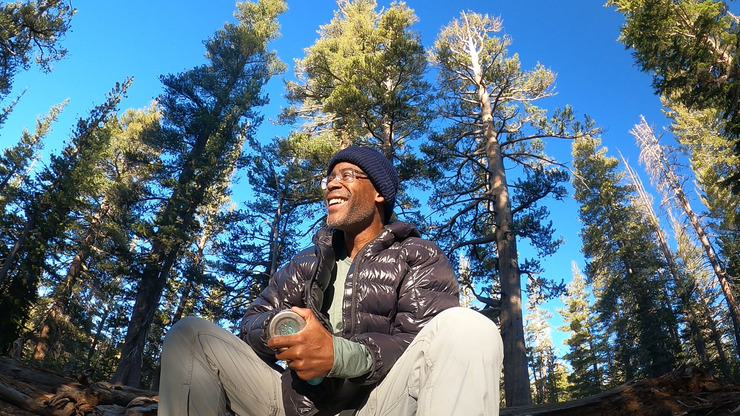 Video for this trip can be seen in this playlist:
Emigrant Backpacking 2020 (Will only be available by following links in first video until July 18th)