March 22nd, 2008 Somewhere in Redding, Ca.
Time: 12:30 pm - 3:00pm
Weather: Sunny and mild
Water Temps: ?
Water Level: ?
Water Conditions: Slightly off color
Insects Observed: Dragon Flies, Damsel Flies
Hours fished: 2.5
# of fish caught: 0
Method: Streamer Bass fishing. Cast out, wait for rings to subside, start stripping.
Set Up: 8'0" Medium Action Cane Rod Payne 200 made by yours truly, 7ft 3x leader
Narrative:
It seems like the only time I get to see Gino these days is when I'm bass fishing. Thus is was last weekend. A last minute decision to buy a lathe for the rod shop, a quick look on ebay and two days later I found my driving to Dunsmuir as a winning bidder in a lathe for sale. The lathe was offered for sale by Chris Raine, a rod maker of my acquaintance.
I know nothing about lathes but trust Chris so it was a perfect scenario for me and gee, Sunday is Easter. Driving the 4.5 hours up to Dunsmuir and then 4.5 hours back and then driving an additional 1 to 2 hours to my in-laws house on Saturday seemed like a lot of driving for little return. Tiring too; so....oops, looks like I really need to make this a two day trip but that would mean....gee, I'll have to take Friday off from work. That's a tough break and...wow, the extra time might actually give me time to fish my favorite river. Life's rough. A quick call to my friend Greg and I had somewhere to stay Friday night. The trip was a go.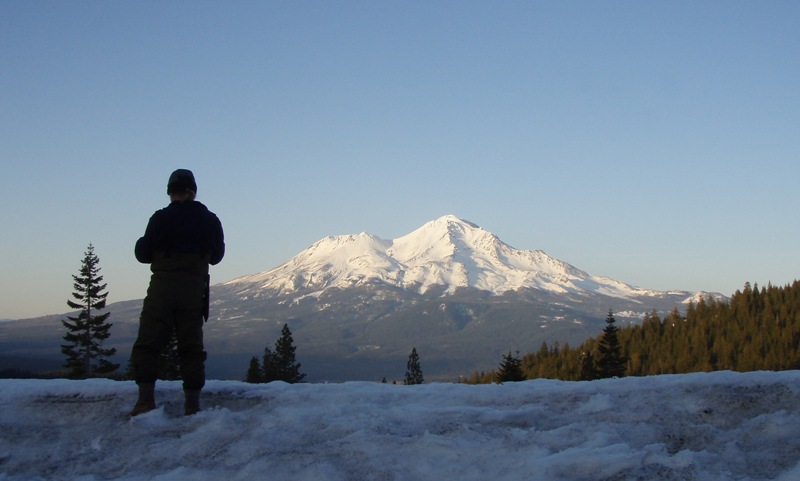 I'd shot Gino an email Thursday to let him know I'd be coming up but hadn't heard from him before I'd left on Friday. Not a problem, I figured I'd fish the Upper Sac with Greg Friday, pick up the lathe Saturday, spend a few hours on the Lower Sac before heading home. I got to Greg's about mid afternoon and after showing me his latest home improvement projects (including a finished chicken coop and about 9 chickens), we hit the river. The river was cold and the fish were uninterested in what we had to offer but, as always, Greg was good company.
Early the next morning I headed to the Dunsmuir Rod Company to pick up the lathe and my phone rings- it's Gino. He's sick so wading the Lower Sac is out but he'd be up for some bass fishing. I'd spent an hour at the Fly Shop on Friday and a fellow at the shop clued me into a "secret spot" for bass fishing in Redding. I guess something is considered "secret" if every fly fisher in Northern California doesn't know about it because after he said it was "secret," the proceeded to tell me how hammered it was by the local bait guys. Not that it mattered, I'm always on the look out for a good bass spot. Gino met me at The Fly Shop and with a quick smile and a "Jim, what are you getting me into now", we left for the lake.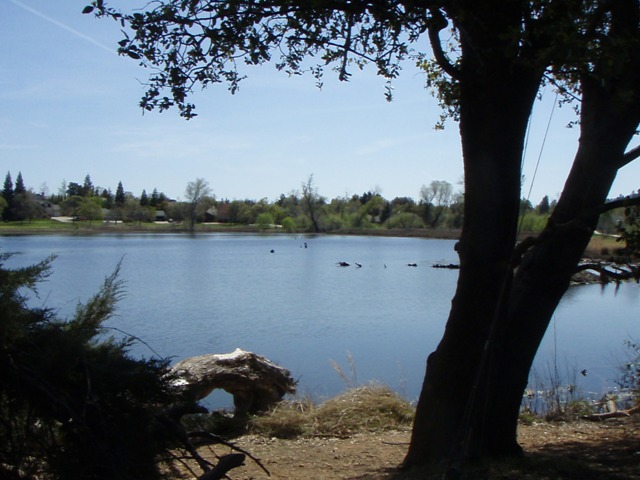 The lake was smack dab in the middle of a what appeared to be a new housing area. The complete lack of signage confirmed that it was open to anyone and everyone that wanted to fish it. Fish it we did. We could see plenty of fish in the shallows and fished the flies the guy at the shop seemed to have plenty of confidence in. We couldn't get a single fish to bite.
Before we left, a bait guy told me you basically had to anger the fish to get them to bite. I figured they were post-spawn but he said, "nah, they haven't spawned yet. You just have to tick them off". "See that one over there? I caught her yesterday. I hit her a couple of times with my jig and then, wham! She hit back and fish on!" He was an interesting guy and seemed to fish the lake often. He very much saw it as his lake and was put off when we saw two other bait guys "harvesting" fish. He hated to see it during the spawn. "That's 200 fewer bass!" He said, loud enough for the other guys to hear.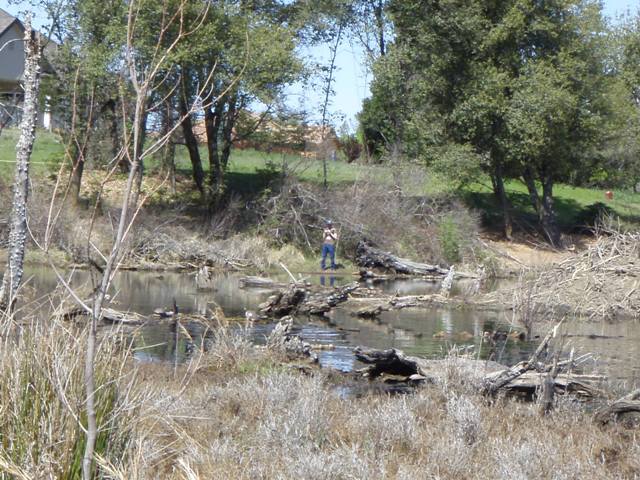 Gino took off in mid-afternoon and I followed suit, stopping to fish the Lower Sac for a couple of hours before returning home. I went fishless the entire weekend but, significantly, I got to spend some time with two friends I seldom see and got to fish some new waters. 2008 is off to a pretty good start.

Previous Pish Page Chronicle Next Pish Page Chronicle Pish Page Index