March 21, 2009 Lower Stanislaus
Time: 3:00 Ė 6:00pm
Weather: Overcast and cool
Moon Phase: I'll have to check.
Water Temps: ?
Water Level: ?
Water Conditions: Slightly off color.
Insects Observed: Midges- Grey Olive,
Hours fished: ~3
# of fish caught: 2 for 4
Method: tight line nymphing,
Set Up: 7ft Medium Action cane rod.
7.5ft leader.
Narrative:
I finally got out to catch some trout. It was sort of spur of the moment. I was sitting at work on Thursday and I thought to myself, ďI really need to do some trout fishing.Ē The weekend forecast called for rain and that hopefully meant that the crowds would be down on the Stanislaus. The crowds are the only thing that keep me away and from what I understand, the recent magazine article in Fly Fisherman Magazine has only made a bad situation worse. More reason for me to stay away. Still, I had a new 3wt rod I was dying to try and my need for a trout fix was greater than my distain of crowds.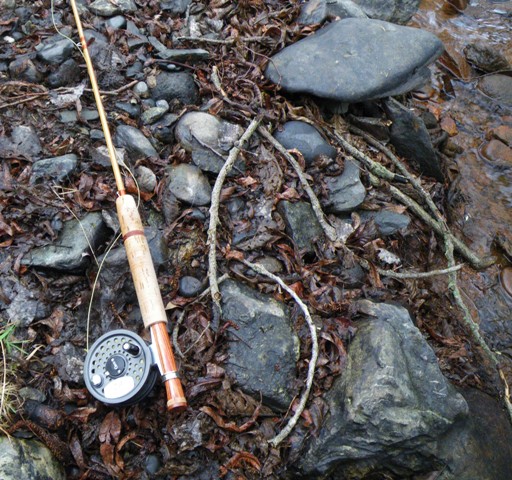 After a few errands in Modesto, I headed out to the river in late afternoon. There were cars aplenty and more than one fellow teaching his kid to fish. Itís nice to see but a bit surprising considering the Stan is a pretty slippery, fast, deep place. I headed down to the barrel hole and found it empty. Things had changed a bit since my last trip to the river. A new path had been worn down to the water and some stones had been installed to reinforce the way up.
I fished a 7ft 3wt rod that I patterned after the 8ft 4wt that I fished all last year. I was pleased with the way the rod performed. It seems to do everything well. It lays out line nicely, mends and roll casts extremely well for its size, sets up on and plays fish well. It needs a little work though. Itís missing something, something imperceptible that a great rod should have.
I tied on a thread midge and the black soft hackle that had replaced the Prince Nymph and Dark Lord as my go to beadhead fly last year. On the first cast I hooked a fish. Almost immediately my 6x tippet broke. I replaced the fly, put on some 5x tippet and made two more casts. Fish on! The first real test of the rod was about to begin.
The fish immediately jumped into the current and headed down stream. It was strong and I palmed my new Orvis Battenkill reel to slow it down. Careful not to overstress the light rod, I took line whenever I could. The fish made several runs and seemed to be headshaking quite a lot. On the Stan this usually signals a very large fish but I soon realized I was feeling tail shakes and that the fish was likely foul hooked. With this realization, I put a little more pressure on the fish and finally landed it. Sure enough- foul hooked. I released the 16 inch silver trout and changed the length of my dropper. Voila. No more foul hooked fish.
I fished the barrel as well as one can with such a short, light rod and was surprised at the water mending and in-air mending ability of the rod. It would make a good indicator rod, thatís for sure. Yarn would probably be too heavy but a small corky or dry fly indicator would do well.
I hooked a smaller fish before climbing out of the canyon and heading down stream. Thereís a section of the Stan that I like to fish in high water. Itís a channel off the main river and is like fishing a small stream on the larger stream. Perfect for the 703; I pulled a fish from a small pocket in this area but did not land it. Iím not quite sure how that happened. Too much pressure maybe.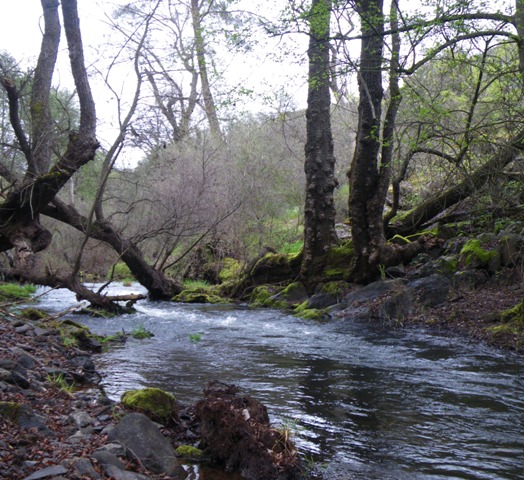 Not much seemed to be going on in the evening. I saw a caddis or two and in retrospect probably should have gone down to the cable hole to see if there was a BWO hatch going on. I was fishing the caddis water but the overcast, drizzly weather should have had me fishing the baetis water.
It was nice to rekindle my relationship with the Stan and nicer still that I didnít have to deal with crowds. I donít really care to fish the Stan this time of year but my soul needed that soothing that only trout fishing on a river can provide.
Previous Pish Page Chronicle Next Pish Page Chronicle Pish Page Index