October 8th and 9th, 2005- Tuolumne River and Lee Vining Creek
Time: Early Afternoon
Weather: Sunny and mild
Water Temps: Very Cold
Water Level: Low.
Water Conditions: Clear and cool.
Insects Observed: None
Method: Dry Flies, Nymphs
Set Up: 7'0" Fast Action Cane Rod W. Cattanach 704-3 made by yours truly, 7.5ft Orvis 6x leader
Narrative:

This weekend marked the end of my high country fly fishing for the season. The trip was pleasant, relaxing and truly constituted a winding down of the season.
Vita, Queen (aka the Sheltie- Jack Russell Terror) and I left home at about mid-night and arrived in Mammoth about 4:30 am. Iíd never driven through Yosemite at this time of night and we were treated to all types of wild life- bears, deer and a coyote. Along the way I had the misfortune to drive though a wash out in the road. We arrived at the hotel without incident but my carís right front tire was extremely low. When I went to the Chevron up the street to fill the tire with air, it was apparent that the rim was bent and the axel seal had come loose- so much for an early morning hike into the lower reaches of the Tuolumne River.
The damage to the car was slight and the service station managed to straighten out the rim by 1pm. It was too late for me to fish as planned so I decide to tool around a bit. I ended up fishing my favorite road side spot along the Dana Fork. The water was low and the fish were spooky. The fishing was tough and I was making it tougher for myself by not crossing the stream and fishing from the shady side. I was pretty tied and didnít feel much like putting on my hip boots, although I was carrying them in the pack on my back.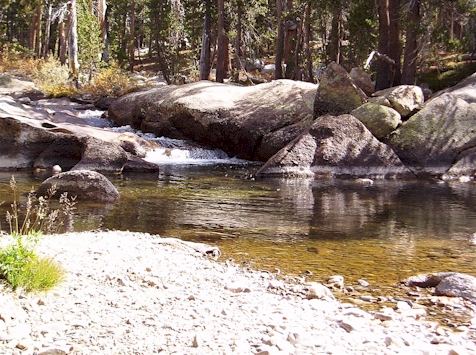 I fished from the sunny side, hiding behind rocks, ducking under trees, making or trying to make long casts with too short a leader. I wanted to fish dries but the fish simply werenít interested. When I managed to drift a dry fly down to a fish that I hadnít spooked, it would simply ignore it. I tried my 3 of my 4 most effective high country dry fly patterns, the Caddis Cripple, Sierra Bright Dot and Parachute Adams with no luck. For some reason, it didnít occur to me to try an Elk Hair Caddis. Perhaps because it resembles the Caddis Cripple which normally out fishes the Elk Hair Caddis 3 to 1. I say normally because this year the Elk Hair Caddis has been my best producing dry fly. I donít know why I didnít think to put it on but I didnít. Instead I resorted to my new favorite nymph with the yellow hot spots. I like the nymph so much that I canít ever remember itís name but itís well the last few outings.
It was on this starling hackled bead head with the bright yellow butt that I hooked the half dozen or so fish Iíd catch this day, including my first Dana Fork rainbow.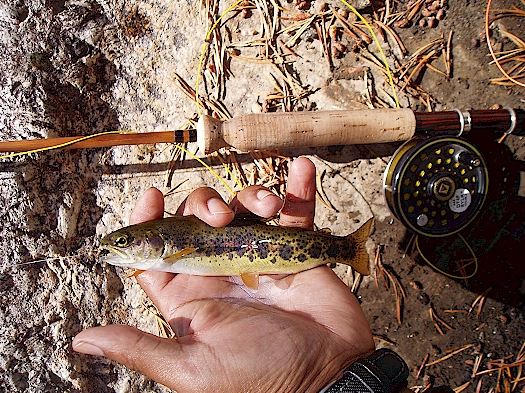 That afternoon I decided to fish a meadow section of the Lee Vining Creek that I had coveted for years. You can see it as you descend HWY 120 into Lee Vining. Itís always looked like perfect trout water to me and thereís never a soul fishing it. I parked along the road across from the stream. It was duskish and I probably had about 45 min of light remaining. I could see several fish disturbing the surface just above one its graceful bends. It seemed a simple trek through the meadow to the stream. I grabbed my rod and started making my way through the tall grass. The grass was very tall, easily 3ft and as I traipsed through I left an obvious trail behind me. I was several hundred feet from the stream when I began to sense that the meadow was not a meadow at all, but a bog. A sticky peat bog, the type were you slowly sink into the ground and struggle fruitlessly against itís powerful suction, trying to free yourself. Now I knew why it didnít get fished much.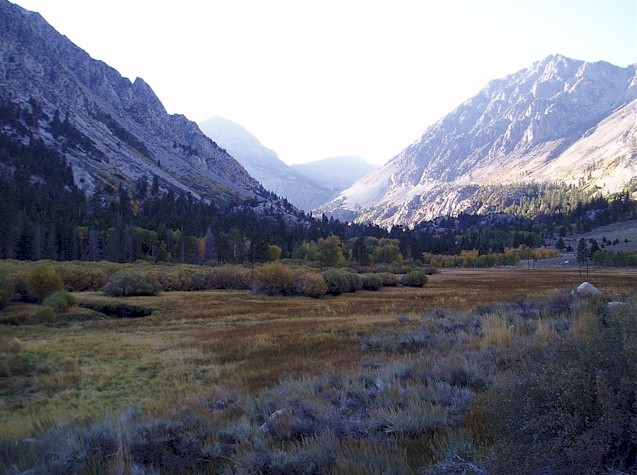 On Sunday Vita and I left Mammoth just after mid morning. I wanted to stop quickly at the Saddlebag Lake Resort and fish another section of Lee Vining Creek before heading home. The section of Lee Vining Creek at and above HWY 120 gets a lot of fishing pressure. Itís rare that I drive by without being able to count over a half dozen fisherman. This weekend was different. Itís not that there were no fisherman but with many of the campsite closed, there wasnít as much competition for the stream. Saddlebag Resort was closed for the season. Iím not quite sure when it closes but I made a mental note that Iíd have to visit earlier in the season next year.
The nice thing about fishing Lee Vining Creek is that most of it follows the road. This means that I can fish and take Vita and Queen with me. We parked at a large turnout and walked down to the stream. Vita set up a picnic blanket and would spend the next hour watching Queen play in stream- jumping into sections too deep for her, chasing foam bubbles and generally being funny. I left them and headed down stream.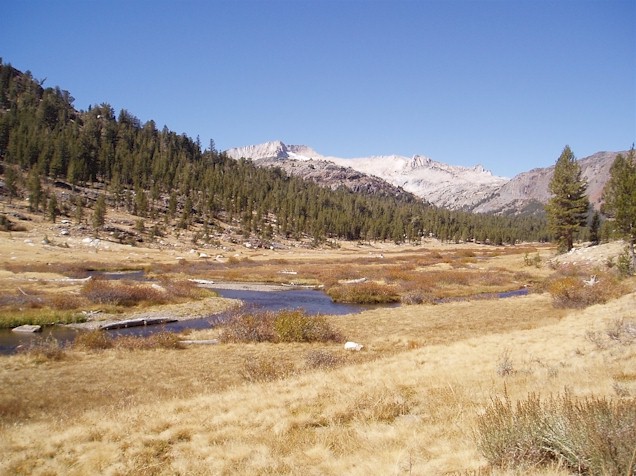 Here again was another stream that Iíve thought about fishing for years but have not done. This particular section was in a wide canyon, fairly flat with low brush stream side. I hiked down stream well away from the bank and when I thought I had hiked far enough, crawled to the stream. Confident that I hadnít spooked any fish, I sat and took in my surroundings. Initially, I didnít see any fish and so I cast my Caddis Cripple to the likely spots. I got a strike almost immediately and then went through a dry spell. This particular section of stream was fairly fast with many swirling currents. I was having a hard time getting both my line and fly in the same water column and figured I wasnít getting a good drift. I fished thoroughly from below and then went to the head of the first run. A down stream presentation made it easy to get the proper drift and several nice Brook Trout came to hand. At this point, I began to see fish or more appropriately, I began to see Brook trout. Their flame orange bellyís stood out against the cobbles and once I recognized this, I recognized that this run was teaming with fish and I wasnít getting nearly the number of strikes I thought I should. The solution this day was clear- Elk Hair Caddis. I donít know why it had eluded me the day before but this day I didnít give it another thought. One went the Elk Hair Caddis- problem solved; I doubled the number of strikes I was getting.
I spent the next half hour casting to fish in a smooth glide. For some reason, I missed 90% of the strikes from this glide. There were a lot of strikes and a lot of bigger fish so I fished the glide until I felt that I had put the fish down. The pocket water above this glide was a little more forgiving and again the fish came to hand, including a nice plump rainbow. This rounded out a Sierra Triumvirate for lack of a better term. From this one stream I caught Brook Trout, Brown Trout and Rainbow Trout. On this heavily subsidized stream, I wondered which fish were the planters.
I returned upstream to find Vita sitting on the bank and Queen trapped on a mid stream rock. Sheíd learned too late to respect the depth and speed of the current and was now hesitant to leave the rock. I could have easily waded across stream, picked her up and waded back. In fact, Iím sure thatís what she expected. Sheís a fairly precocious dog; if there can be such a thing. I waded across stream patted her on the head and waded back. Sheíd got herself into this situation and sheíd have to get herself out.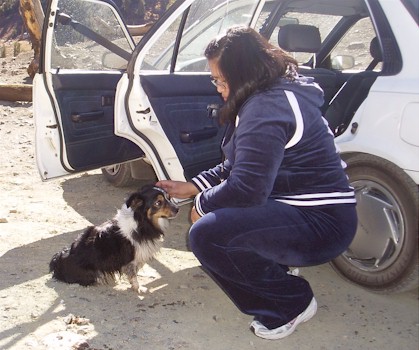 Previous Yosemite / Ansel Adams Wilderness Chronicle Next Yosemite / Ansel Adams Wilderness Chronicle