April 22nd, 2006 - Angeles National Forest
Time: 10:30am - 3:30pm Saturday
Weather: Sunny and Mild
Water Temps: ?
Water Level: High
Water Conditions: Somewhat Stained
Insects Observed: Can't Remember
Hours fished: ~ 4
# of fish caught: Didn't really pay attention.
Method: Dead drift, shortline nymphing
Set Up: 6'3" Parabolic Action Cane Rod Paul Yong Midge made by yours truly (rod #1), 7.5ft 6x leader and 6x tippet.
Fly Choice: Size 12 or 14 Mini Conehead Wooley Bugger
Narrative:
You wouldnít know it but the Los Angeles area has some great small stream fly fishing. It makes sense, LA is basically surrounded by either mountains or ocean and where there are mountains, especially in close proximity to the coast, there will be trout. Think coastal steelhead which, in days past, swam into nearly every coastal California stream to spawn. So if it connects to the sea or did connect to the sea, chances are it has fish. Whether a stream has fish in todayís day and age depends on the ravages of man and the weather.
Fortunately, the concrete jungle that is the LA basin has not reached far enough north and east to affect the trout populations to the point of extinction and when the area gets a good bit of rain fall, like it has this year and last, good trout fishing can be had year Ďround.
Makes sense right? So where is this great LA trout fishing. Well, thatís a closely guarded secret by the LA locals that I know and one Iím not going to give up here. I will tell you that while the actual hot spots are a closely guarded secret, fishing in this area generally isnít and the names of these streams can be found on various internet bulletin boards (sometimes in code) and So Cal fishing guide books.
As I said earlier, I have the good fortune to be acquainted with some folks in the know and had the opportunity to fish one of these streams with John, a local expert and long time internet friend of mine.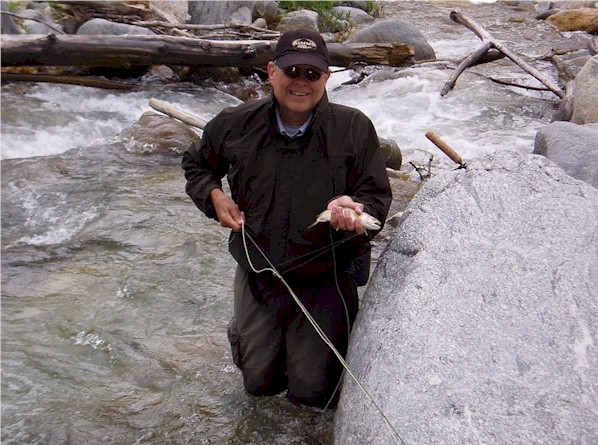 John and I met in a residential neighborhood right at the base of the mountains and within minutes were driving along a mountain stream. It was simply amazing. We stopped shortly to gear up and then continued to Johnís secret stream. This was a convert action, to make sure that no one could follow us to the stream once we parked and started hiking. It was a good move. From what I could see, the Bubba Factor in this area is high. The streams in general were no secret; there were folks of all types on these streams and a lot of them. Folks Iím sure that would be conscientious of this resource so close to a major metropolitan area and folks Iím sure that would not be.
John took me to one of the least popular streams, the kind of place that you have to know to fish well, the kind of place where you have to know where to find fish as well as know the fish themselves. One of the first things John told me was that these wild trout didnít act like normal trout and success on this stream wasnít a matter of matching the hatch but having paid your dues. He suggested I fish a Woolly Bugger, specifically a mini Woolly Bugger tied by a mutual acquaintance of ours, RS2. I played the hard head.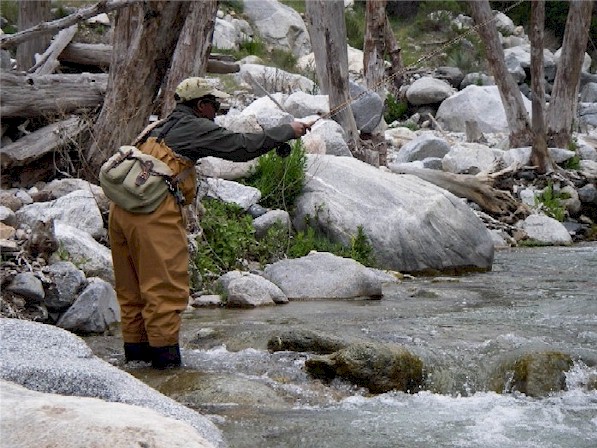 I canít remember the first fly I tied on, not the second one, nor the 3rd. What I do remember is that they didnít work or at least, didnít work well. I think I caught one fish on a non-bugger type fly that day. John was seemingly catching fish at will on his RS2 mini bugger so I reluctantly switched to a Kuni-Bugger and then finally, RS2ís Mini Bugger. (Here after known as RS2ís Mini Marabou Nymph.)
What a difference a fly makes. I started picking up fish, not as many or as large as Johnís but enough to call it a good day of fishing. (Of course any day is a good day of fishing.)
We fished two areas of the same stream. One that held larger fish, that I didnít catch, and another that held smaller fish, where I did catch quite a few larger fish. On the way home we fished a third area for a couple of minutes. It looked more like a motocross track than a fly fishing stream but John tells me that the dry fly fishing can be quite good, despite the 4x4 action near by.
Thanks John.
Previous "Other" National Forest Chronicle Next "Other" National Forest Chronicle