May 23th - June 1 2008- Hot Creek
Time: Generally Morning to late afternoon
Weather: From overcast to snow to thunderstorms and freezing rain early in the week to clear and sunny.
Water Temps: Didn't take.
Water Level: Below normal for late spring.
Water Conditions: Clear to slightly off color.
Insects Observed: To different types of micro caddis and beatis.
Hours fished: Roughly 3 to 6 hours each day.
# of fish caught: Really didn't pay attention, quality was the goal not quantity.
Method: Sight fishing with a Dry Fly fishing with a 9ft 5x leader and 30 inches 5x dropper on the Ranch. Short Line Nymphing without an indicator on the public section of Hot Creek.
Set Up: 8'0" Medium Action Cane 8ft 4wt rod made my me.
Flies: 18- 20 Parachute Adams, 16 Caddis Cripple, 16 CDC Caddis Cripple, Size 12 Beadhead Gold Ribbed Black Wet Fly.
Narrative:
"I guess this doesn't count for your web site." Erik asked when he joined me on my 3rd day at Hot Creek Ranch. We were walking the stream, looking for rising fish. I'd just pointed out the run where I spent most of my two days fishing and pointed out the lie of my "nemesis" fish- a 20 plus inches fish that I hooked but didn't land on both days. Erik thought about it a little and before I could respond said, "….. but…..I guess you can't get higher than this for spring creek fishing….."
He's right, on both accounts. At just about 7,000 feet elevation, Hot Creek does certainly qualify as "high country", especially when compared to the fishing I did at lower elevations in Shenandoah National Park last summer. At the same time, it isn't the backcountry lake and small stream fishing that the words "High Country Fly Fisher" evoke. It certainly isn't a stream where one expects solitude, which is almost a prerequisite for high country fishing. Still, as part of Vita and my annual Mammoth Lakes trip, I always include it in the High Country Chronicles.
Typically our trip to Mammoth Lakes includes fishing high country lakes and streams as well as fishing Hot Creek and sometimes the Owens River or Owens Gorge. This year, due to some clever negotiating regarding our lodging arrangements last year, Vita and I found ourselves staying at Hot Creek Ranch for the entire trip. In fact, due to how you have to reserve space at Hot Creek Ranch, we actually extended our trip by two days. So it was I found myself on a spring creek, big fish, fishing paradise for 10 days last week.
Hot Creek Ranch is a private fishing ranch in-between the lower public section that I normally fish and the upper public section that I occasionally fish. It's strictly pay to play and holds 9 cabins, each accommodating up to 3 anglers per cabin. That's a max of 27 anglers if you do the math and when you think about it, that is a lot of folks for less than two miles of stream. Fortunately, all those folks aren't on the water at once. It did feel a little crowded at times, mainly on the weekends but the stream boasts 4000 trout per mile and some pretty hefty fish. Erik and I saw a dying fish that was at least 30 inches and on my last day I worked a healthy fish that was close to that.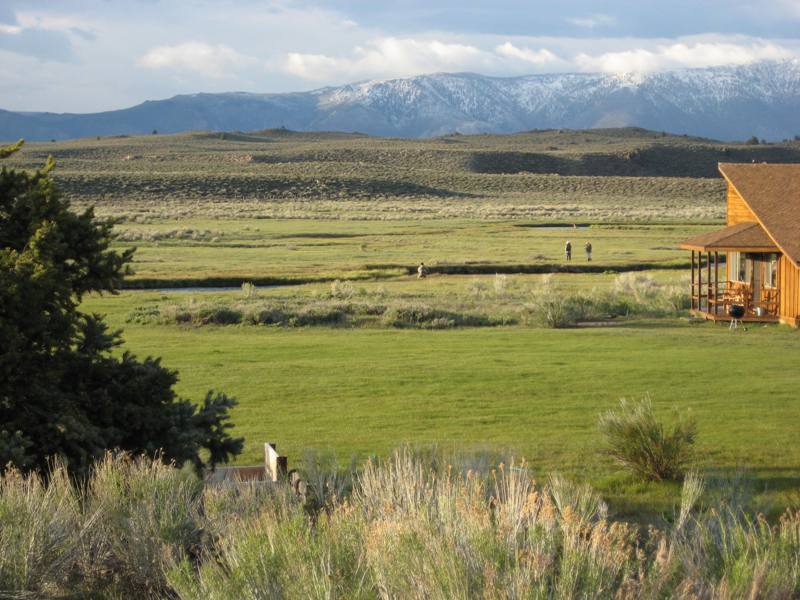 Vita and I arrived in the Mammoth area Friday, just before dark. Just early enough for me to do a quick token check of the water upstream of the cabins. There weren't any fish working but a small herd of deer kept me company as I scanned the water. A few quick casts to the far bank below a small spring and I was back at the cabin where Vita waited for me to take her to dinner. Chicken pot pie at the Stove, here we come.
The next morning I met the river keeper, Kevin, for a brief run down of the goings on at the ranch. He showed me the fly shop on the property and told me not to bother rolling out of bed until 9am. "The fish don't get going until after 9", he said. Kevin filled me in on what was "legal" to fish on the ranch. Hot Creek Ranch is a dry fly only stream and I wanted to be clear on what "dry fly" covered. It seemed "dry fly" covered anything that floats on top of the water or in the surface film, including anything tied with CDC.
I've never had much luck keeping CDC afloat so I asked if my floating nymphs were kosher. The nymphs are tied with a wing case of foam and to my mind float better than CDC; Kevin hemmed and hawed and finally said "fish your conscience". I took that as a "no".
That first morning I was on the water at 9am. I made my way downstream to an area that I remembered fishing the year before last with Evening Rise from the VFS board. I caught fish there so I figured it was as good as any place to start. Storms were forecast for the next few days so it was a good bet that there'd be a beatis hatch. I'd come prepared with a bunch of beatis imitations that I rarely fish and was pretty excited at the prospect of catching fish on those patterns. I sat on the downstream portion of a left hand bend, below a riffle and tied on my tried and true caddis cripple and size 22 beatis cripple.
I knelt for a while observing the water. Nothing much was happening so I decided to simply work the water. I pulled 20 feet of line off the reel and, from my kneeling position, "worked the clock". Working the clock is a searching method were by you cast the same length of line to several positions in front, at the side and below as if your fly line was the minute hand on a clock. I was on the outside bank, so I cast mainly to my 12 o'clock through 5 o'clock positions. I'd cast the clock, move up stream several feet and start again. Fortunately, it wasn't long before some of fish became active and I was able to sight cast to each fish. I wasn't too discriminating and if a fish rose, I cast to it.
The first two days I hooked fish in the 6 to 20 inch range, with most of the fish measuring in at about 12 inches. I didn't land any fish larger than 18 inches and the giant fish of the day became my nemesis. We seemed to have an agreement those first days; the fish would take my fly so long as I agreed to a long distance release shortly thereafter.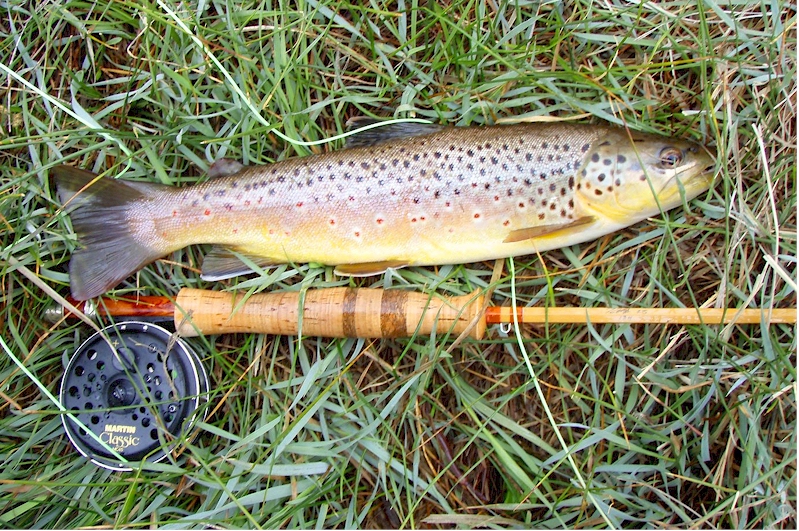 The weather was horrendous and seemed to change from mild in the morning, to snow and freezing rain mid day, to thunderstorms in the afternoon, back to snow in the evening. The first morning I fished for 3.5 hours before heading back to the cabin to warm up. It took me 3 hours to warm up and I decided not to fish for the rest of the day. The second day it snowed more so than on the first and I fished for most of the day. The lack of wetness made the cold weather bearable and I had most of the river to myself.
By the 3rd day I felt I had a pretty good handle on what was going on. Deceptively mild in the morning followed by extremely nasty weather and the fish generally became active between 10 and 11am. I was fishing my caddis fly but had picked up some of the flies suggested by the ranch wondering if I would do better with them. I didn't but had a pretty good day on Monday anyway. My friends Erik and Jill showed up in the afternoon on Monday.
When I fish I like to challenge myself but that challenge can take on different forms. In high country scenarios it's mostly, can I spot a fish and sneak up and catch it. Other times it can be simply getting good drifts in difficult areas or fishing a short rod where a longer rod would be more appropriate. The conditions mostly dictate the challenge. Sometimes it can be simple curiosity, what kind of fish can I pick up where and with what? So far on Hot Creek it had been the latter. Erik is strictly a big fish, difficult fish hunter. If nothing's hatching, he won't be on the river. Even if the fish will rise to a dry fly, he's not into inducing fish to take when there are no bugs on the water. That's his challenge.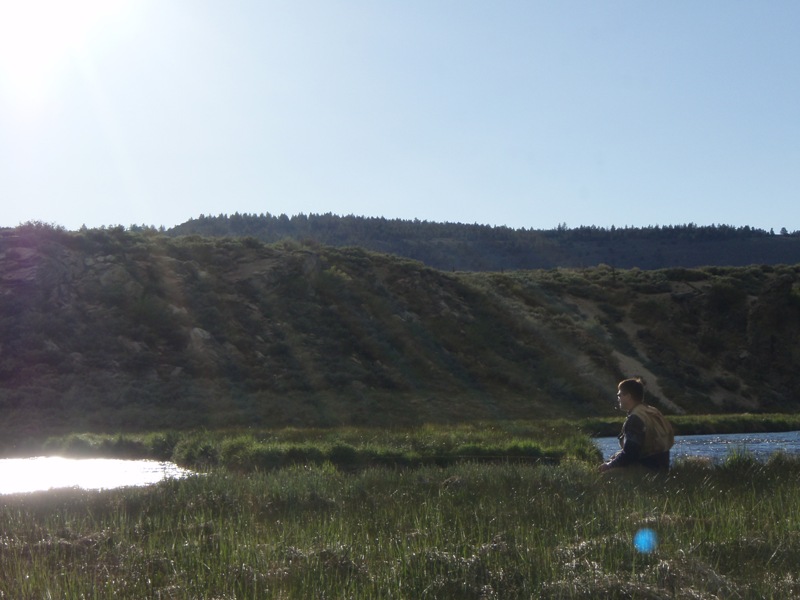 He learned his craft from Andre Puyans and like Andy will sit and watch a fish or sit and wait for the biggest fish to show itself and then hope to catch it with one perfectly laid cast. Erik will sit and wait for a fish; I'm a little more impatient and I'll go and look for fish. Erik will sit and wait and won't cast until the conditions allow. He ideally looks for fish 18 inches or better, I'm a little less discriminating and when I'm sight fishing the way he does, a 14 or 15 inch fish will do.
High country fly fishers generally don't have the luxury to be so discriminating, in some places a 12 inch fish is the cream of the crop but at a place like Hot Creek Ranch, you have plenty of opportunities to cast to big fish. So that's what we did. Erik's first night we walked the lower section of the river. I don't even remember casting, I just watched him. His fish sighting skills are phenomenal. The rise of large fish in a spring creek can be subtle and he can pick out the larger fish not only by the type of rise and how much of the fish you can actually see but also by how much you can't see. He'd often say, "that fish is pushing a lot of water", which signified a big fish. When looking at a riffle I might see a jumbled mass of tossed water; he'd see "heads".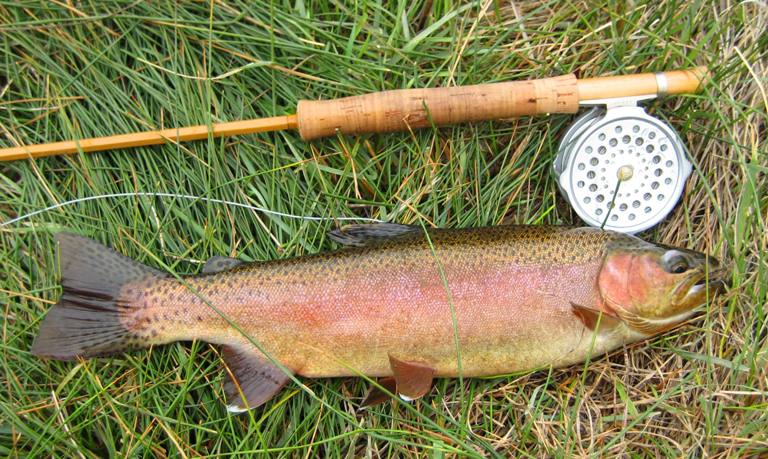 This is how he fished for the rest of the week and to some extent, how I fished the rest of the week. Two fish will stand out as the "best" fish of the week for me. Not because of their size, but because they were a lot of fun to catch. It was Erik's 2nd full day on the ranch; the weather had been good and that afternoon there would be a strong caddis hatch. Before the hatch we had been fishing a section of stream called the "Bluffs". Erik was watching a deep run below the Bluffs and I was fishing a further two runs down. I had been watching a riffle for about 15 min when I spotted a good fish below. I crawled into place for a closer look and sure enough, there were two good fish working on the opposite bank. Each was in it's own little eddy. I waited and when I finally thought I had their number, I made several casts. Unfortunately, these casts were intercepted by smaller fish. Convinced I had put down the larger fish, I moved to the riffle just below Erik.
A lot of the riffles on the lower section end with drop offs into either a right or left bend. This particular riffle was large, probably 30 feet long and 20 feet wide. We had been here a couple of nights before and Erik had seen head after head feeding in various parts of the riffle. I watched and saw nothing. An hour had past since we'd both moved into position and Erik was still watching his water while I had already fish through some of mine. I watched the riffle for about 30 min but couldn't see anything. Starting to feel a bit useless I moved up to Erik who by this time had cast to two large fish. He couldn't get a good drift to them so he moved on.
Erik quickly found a large eddy to watch upstream and as I slowly walked the riffle below him I spotted a yellow flash in an eddy beside I small plunge on the opposite bank. I watched a little more and I could see the dorsal fin of a good brown trout. "I see you."
The trout was in a tough position to cast to. A small island split the riffle above. Erik was on one side, watching a large eddy which funneled water into a left hand bend that came sweeping around and into the riffle at my knees. The other side of the island created a small plunge and between me and the trout, the two currents met. I had to cast over several currents of differing speed and present the fly dead drift into the eddy. That day I had made it a point to practice Joe Humphreys' slack leader cast. I cast my flies quartering upstream, slightly over powering the cast and then dropping the tip. Ideally, the leader lands in coils and you get a float unaffected by what the rest of the line is doing. That's a good thing because my mending was a bit rusty.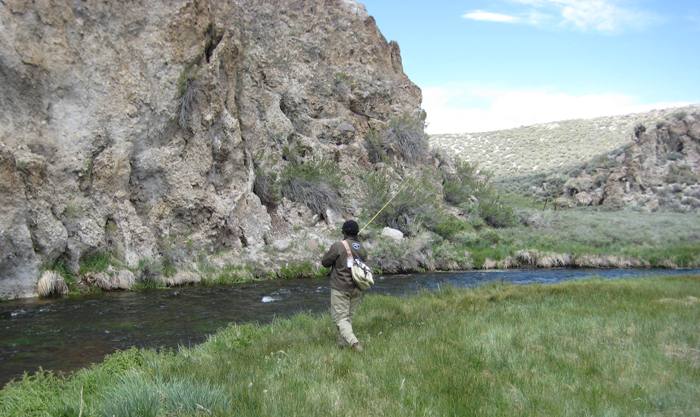 When Erik arrived he started fishing several flies tied with CDC. The ranch also suggested CDC patterns so, since my cripple caddis had been so effective for me, I tied up the same pattern and substituted dun colored CDC for the elk hair and parachute. I worked the fish for a while before my tandem cripple caddis dry and CDC caddis emerger pattern landed "just right" in the eddy. The flies floated a couple of inches before I saw the flash of a yellow torpedo. I set the hook and fish was mine. I played the fish while Erik snapped pictures. I hoped to get a good picture with the fish but landing fish at Hot Creek can be tricky without a net. The fish are pretty hot and when I tried to position the fish in my hand, the hook came out and he slipped from my grasp.
A little later Erik had moved to an area where we had consistently seen large fish. Still working the area around the riffle I looked up to see that he had a fish on. He waved me over and I ran upstream to watch the action. I could see it was a very large fish and like so many of the larger fish that week, this fish was given a long distance release. Most of Erik's and quite a few of my large fish would come from this run which again was a left hand bend below a riffle.
I positioned myself on the top end of the riffle and sat and watched the water. I could see two good fish working on the opposite bank. One was on the fast water edge of an eddy, just above a weed bed and the other was in the eddy proper, between two weed beds. Again, my cast was over fast riffle water. The outside fish would be the easiest to cast to and on my first or second cast I threw a left reach and my flies drifted perfectly into position. The brown trout took my top fly, the cripple and came off almost as quickly. All of the large fish that I would loose this week would come on the top fly and though I've never had problems before, I suspect tying the dropper on the bend of the hook may have contributed to this. Normally my dropper is tied with 6x but with Erik's prodding, I changed to 5x in order to land the larger fish faster. The 5x knot looked huge on my size 16 1x short hook.
I waited for the other fish to show itself again. Once it did I began to cast. It was a tough cast. The fly had to settle perfectly between the two weed beds and not drag. When I over shot, the fly would land on the far weed and when I undershot it would land on the near. Worst still was when my leader landed on one weed bed and my fly on the other and the middle section of leader was in the current in-between. All of this was compounded by the wind that tends to howl at Hot Creek in the afternoon.
I think I was probably close to giving up and moving when I finally made that perfect cast. The leader piled into the eddy and sat motionless the fish came up a sipped the fly with a gentle head to tail rise and I set the hook. I landed a nice, heavily spotted rainbow, 17 inches rainbow. Erik also landed a fish about the same size and we proudly took pictures of both.
Each evening Erik would cook a gourmet meal for us- Coq Au Vin, barbequed Rib Eye, braised Pork, we ate very well during his stay.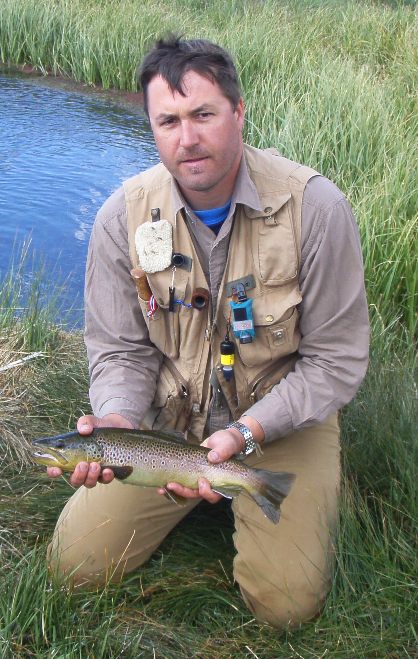 You know you're taking yourself too seriously when you come back from a day of fishing annoyed that you couldn't land a fish over 16 inches. Thursday night I was annoyed with myself and a bit pissy in my quite way. I had no right to be, I caught a bunch of fish but just didn't have what it took to land the bigger boys. This in contrast to the great day we had before.
Vita, as is a wife's prerogative, set me straight. She wasn't in the mood for me to be in a mood. "Poor baby caught 100 fish today but couldn't catch anything over 16 inches." "Oh whoa is me!" she'd say putting her hand to her forehead. It was pretty funny and she repeated this until I finally lighted up.
Friday I was back in my "just glad to be fishing" mode and spent the morning spotting for Erik from high atop the Bluffs. Erik had spotted an extremely large fish the day before. The fish was well camouflaged from the bank but clearly visible from the Bluffs. Together, me as spotter, he as fisher we tried unsuccessfully that morning to catch that and another large fish.
Erik left on Friday and the following day I finally succeeded in fulfilling one of my two hopes for the week. First, I had hoped to catch a large brown trout. Erik seemed to be catching 18 plus inch brown trout at will and I had only caught one brown trout to 16 inches all week. Most of my fish were rainbows and I figured that was simply due to the fact that they were more aggressive. Erik was doing a good job fishing to more subtle fish. Secondly, I had hoped to land a 20 inch fish. I seemed to have hit an 18 inch fish barrier and though I'd hooked into larger fish, I couldn't land them.
Saturday morning was a pretty poor. There wasn't much going on in the morning, hatch wise, and there simply weren't many larger fish showing. I'd caught a few fish but they were all "accidents". That is, I didn't catch the fish I was targeting and instead caught their smaller, more aggressive neighbors. Vita and I planned to spend the afternoon in Bishop and so I headed back to the cabin at around noon. I approached the cabin to find several anglers, standing up, working the water close by. This isn't unusual as there are always several anglers fish the water near the cabins.
There's a bridge near the cabins that I'd used each morning to cross the stream as I headed to fish the lower section. Each day I'd walk across and look into the water at the fish holding just below it. The bigger fish would scatter immediately and the smaller fish would follow suit as you stepped directly in front of them. We'd seen lots of folks fishing the water near the bridge but not bridge itself. Several large fish seem to have a fondness for the bridge. One morning Erik had seen a large brown trout and Friday I had pulled a 14 inch rainbow out as a last fish before retiring for the evening.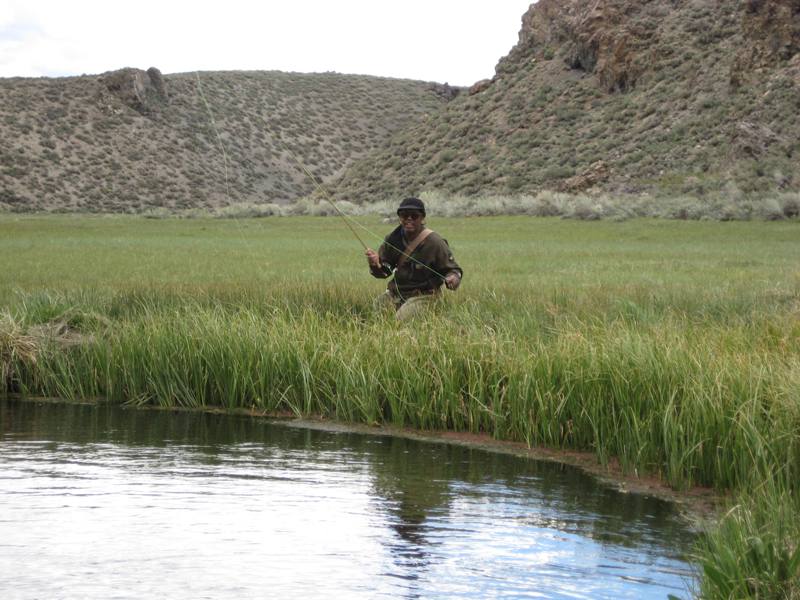 I crouched as I approached the bridge and knelt about 20 feet behind it. The wind was blowing in my face and slightly to the left as it was the night before. I knew what the cast had to be. Bringing my hand up to my right shoulder in a regular casting stoke, I tilted my hand to the left as I cast. This allowed the line and leader to cast over my left shoulder without having to cast across my chest. The first few casts fell short as I adjusted for wind. The casts were made 3 feet to the right of where they might normally be made to adjust for the wind. The leader landed with a slightly diagonal to the line and in the proper feeding lane. When fish take a subsurface fly they often reveal themselves as if by magic. I didn't see the fish take my CDC emerging caddis but the fish suddenly uncloaked with a movement to the right and I set the hook.
It was a hot rainbow and he made several jumps before I coaxed him into some quieter water downstream. Without a net, the bank was to high for me to land him properly. Vita had run out of the cabin with the video camera and as I lay on my stomach leaning into the water, I raised the fish so that she could get a good picture. I couldn't measure the fish but it was bigger than the fish I would catch on Sunday which was legitimately measured at 18 inches- one challenge down, one to go.
That evening I went down to fish the public section just before dinner. It wouldn't be a "Mammoth Trip" if I didn't fish my favorite haunts before returning home. Fishing was hot for the 20 min. I was there and I landed 3 fish, with one to 16 inches on my new emerger pattern and new wet fly that I tied up. I would have stayed longer but I lost my flies and had promised to be back before dark.
Sunday wasn't much better than Saturday, bug wise. I fished the lower section and since it was my last day I was a little bit freer with the fish I targeted. The big fish weren't really showing so I kept myself busy with the odd 12 or 14 incher. In the early afternoon I positioned myself along the bank were Erik had caught many of his big fish and watched the water. On Thursday and Friday I had been in that exact same position during mid-afternoon when the fish went bonkers- both days, gorging themselves on caddis for about 30 minutes. Friday afternoon there were two fish in the tailout of the bend that were so large, they looked like sharks with their huge dorsal fins sticking out of the shallow water.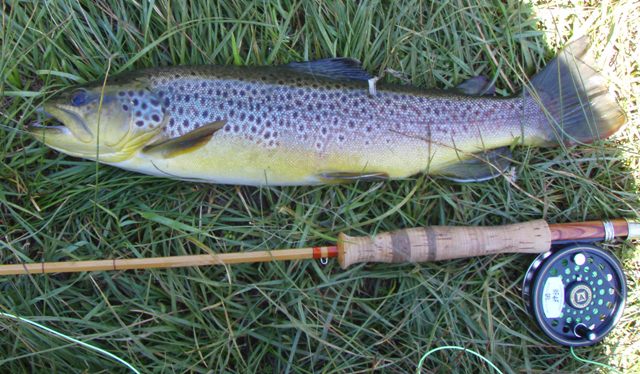 I sat and watched, catching some fish in the 12 to 16 inch range. I was beginning to think that there weren't going to be any larger fish when, at the exact time I was meant to check out of our cabin, several large fish moved in to feed. It took some doing but I was finally able to hook and land an 18 inch brown trout. When I did so, an absolute huge fish moved just ahead of its position to feed. I could see the shadow but didn't recognize it straight away as a large fish. It wasn't until I saw the fish rise that my jaw dropped. It was scary huge. I won't write how big I thought it was because you wouldn't believe me. It dwarfed the 18 inch brown and the 20 inch rainbow I would hook and not land later. I worked that fish for an hour before arriving back at the cabin late.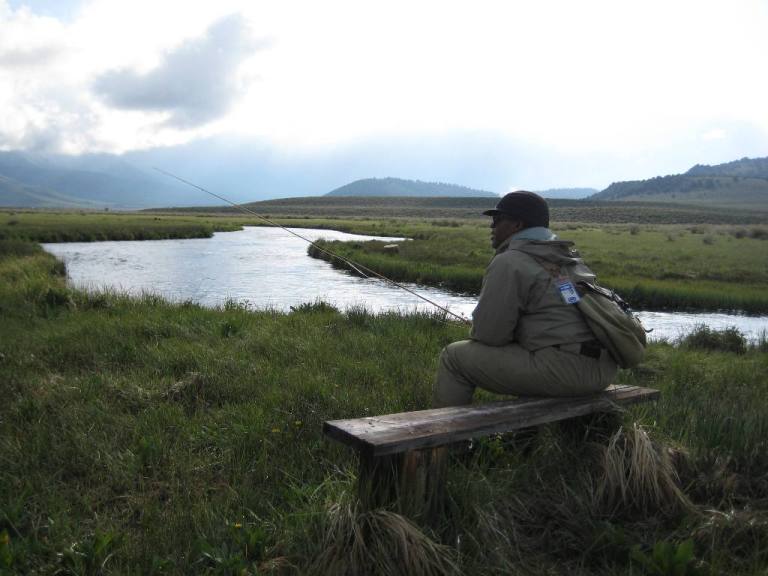 Previous John Muir Wilderness Chronicle Next John Muir Wilderness Chronicle