May 27 - June 2 2006 Eastern Sierra
May 27th, 2006 Hot Creek , May 29th, 2006 Hot Creek
Time: 6:00pm - 7:30pm, 1:pm - 7:00pm
Weather: Saturday- Cloudy, Snow, Sleet, Freezing Wind! Monday- Sunny and Mild
Water Temps: 51.
Water Level: High
Water Conditions: Slightly off color.
Insects Observed: Small Green Cased Caddis
Hours fished: 1.5, 6
# of fish caught: 4, 9 out of 11
Method: Short Line Nymphing with a cork indicator
Set Up: 8'3" Medium Action Cane Light Line Rod 835-3 made by yours truly, 7.5ft Rio 5x leader to first nypmh. 12" Rio Florocarbon 6x to second nymph. Split shot as needed 6-8 inches above first fly.
Narrative: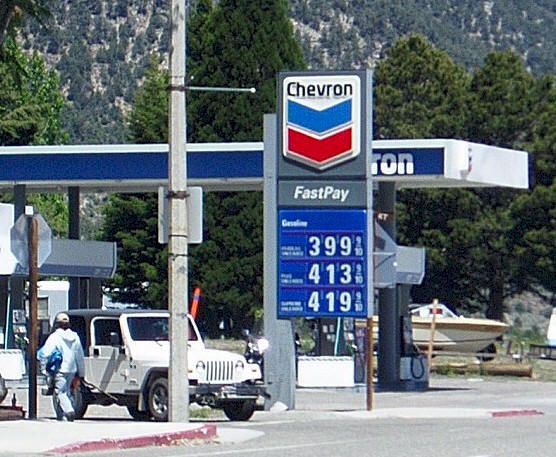 Welcome to Lee Vining California. Each year, Vita and I make the journey from the Bay Area to Mammoth for a week of fun and fishing. Usually the Sunday before Memorial Day I can be found fishing the middle section of Hot Creek. This year though, Vita and I decided take a drive up to Reno. On the way, we found gas prices from a $3.99 in Lee Vining, which for some reason seems to have the highest gas prices in the state, to $3.09 just outside Topaz Lake. Amazing but true……….
As is typical on Memorial Day proper, fishing at Hot Creek was slow today. Early on fishing was good but as the day progressed, things slowed and I was catching one or two fish an hour, with the best fish to 13 or 14 inches. I can't complain though, as they say, "Any day fishing……." And it WAS a much more agreeable day than Saturday.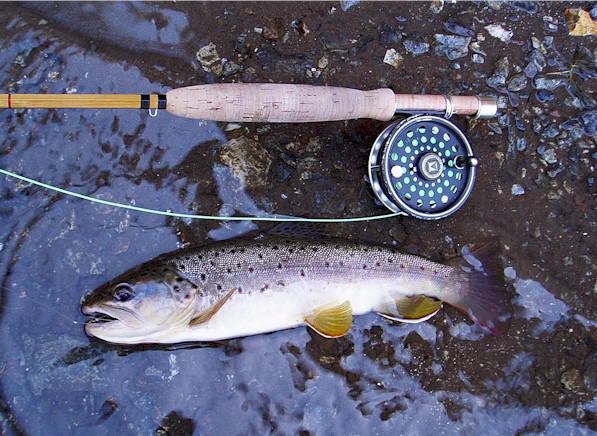 Saturday evening I fished the upper portion of the stream, below the hatchery for about an hour and half. Fishing was slow but for a much more sensible reason. The air temps were in the 30s and 40s and it was cold, cold, cold. I faced it all, snow, sleet and freezing rain but managed to catch 4 small rainbows, all but one looked like stocker rainbows.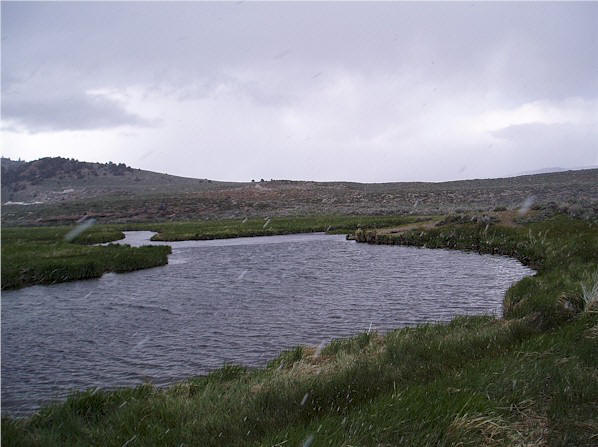 I can't remember when I've been so cold. It was a fascinating experience really. My body succumbed to what I presume where the early stages of hypothermia. It started with simply being cold. No problem, I've been cold before and didn't plan to stay long. Soon my finger tips started to ache. I was wearing fingerless gloves, which when you think about it are ill conceived. Shortly, my finger tips started to burn. Knowing that I was a short walk from my car, I decided to tough it out- to keep fishing until I was too cold to continue.
I can't remember which happened next, the uncontrollable shivering or the loss of motor skills. As much as I tried, I couldn't perform a double haul or false cast. I couldn't tie knots and became so cold that I lost the ability to cast all together due to all the shivering.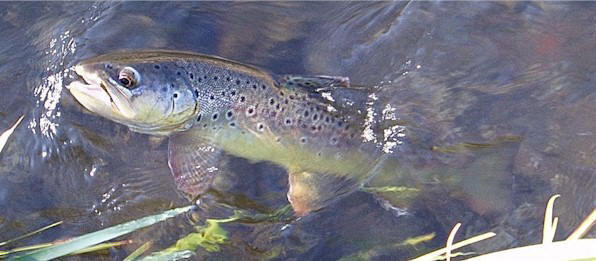 Today was different- sunny and in the high 60's, I was dressed just a tad too a tad to warm and that suited me just fine. For much of the day, I was alone on the middle section of river. Those who did show up made their way immediately to the portion of the public water just below the ranch property. I imagine there was quite the crowd up there.
May 30th, 2006 An Eastern Sierra Creek- "Bernard's Creek"
Time: 12:00pm - 5:00pm
Weather: Sunny and mild
Water Temps: Didn't check.
Water Level: Not sure, looked pretty good.
Water Conditions: Clear.
Insects Observed:
Hours fished: 5
# of fish caught: Didn't pay attention.
Method: Dry Fly with dropper.
Set Up: 7'6" Medium Action Cane Rod Payne 100 764-2 made by yours truly, 7.5ft Rio 5x leader to dry fly (EHC). 36" Rio Florocarbon 6x to beadhead poxyback bwo nymph.
Narrative:
Abso – fricken – lutely unbelievable. That's what I was thinking as I climbed my way back to the car after today's day of fishing. I had the good fortunate today to fish with Bernard. An acutance of mine whom I happened to find out was in Bishop this weekend. Two emails and a phone call later we were standing on the banks of a beautiful meadow stream, filled with trout of all sizes..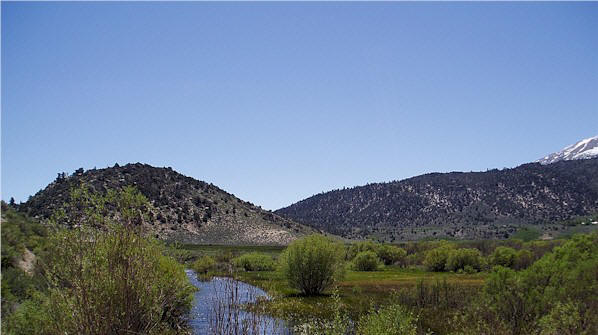 Meadow streams are definitely my nemesis and my normally adequate casting falls apart. So it was today. I fished my Payne 100 for the first time. It requires an extremely positive forward stroke and it took me several hours to get into the grove. Once I did, I found the rod extremely pleasurable to fish with. It's a very nice, light trout rod for fishing dry flies.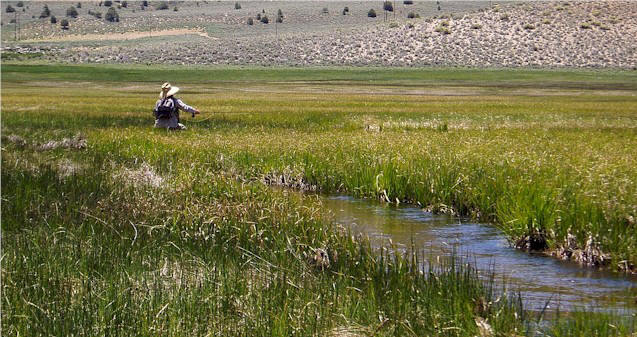 Bernard and I only fished together a short time but in that time he managed to catch the largest fish of the day or "hog" as he calls it of 17 inches. Shortly before Bernard left, I hooked and LDRed my own hog, which I'd guestimate was about the same size. While fishing alone, I'd LDR two more large fish before finally landing a nice ~15 inch rainbow.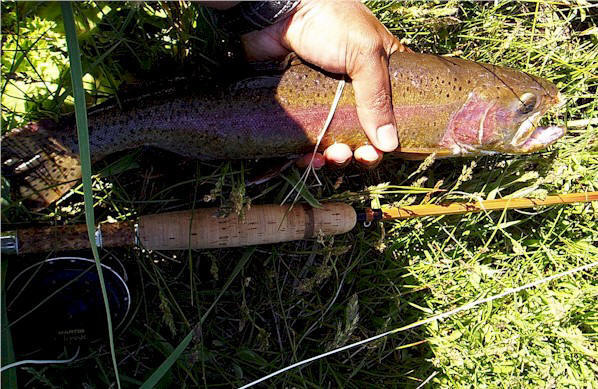 June 1st, 2006 Convict Creek
Time: 11:30pm - 2:00pm
Weather: Sunny and Mild
Water Temps: Didn't check.
Water Level: Looked Good.
Water Conditions: Clear
Insects Observed: Small Green Cased Caddis, Large Stonefly (Salmon Fly?)
Hours fished: 2
# of fish caught: 12+ ?
Method: Shortline Nymphing without an indicator, Dry & dropper.
Set Up: 8'3" Medium Action Cane Rod 835-3 made by yours truly, 7.5ft Rio 5x leader to first nypmh. 12" Rio Florocarbon 6x to second nymph. Split shot as needed 6-8 inches above first fly or EHC dry fly with beadhead PT as dropper.
Narrative:
Yesterday I spent the day with Vita and did some scouting based on a hunch. Today it paid of. I fished a section of Convict Creek I had never fished before. This particular section was like the Lower Owens River in miniature. Only 8ft across at it's widest point, it was characterized by high grassy banks and low tree lined banks.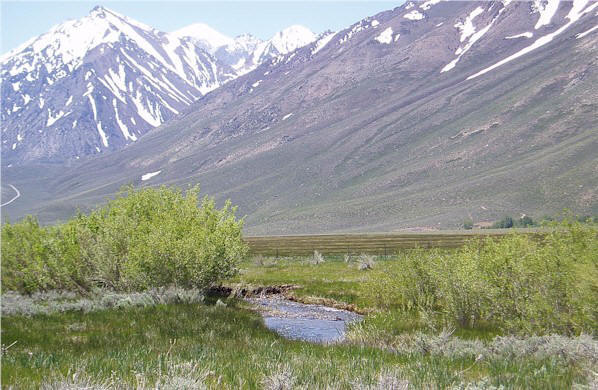 I had a great time but it didn't start out that way. The next time someone asks you why you shouldn't fish long rods on small streams, give them the following reasons:
The longer length makes it easier for your rod and fly to snag in surrounding brush.
The longer length rod makes it easier for your fly to catch wind.
In close quarters the longer length makes it more difficult to control your fly and play fish.
But most importantly, the longer rod casts a longer shadow, spooking fish you wouldn't have spooked with a shorter rod.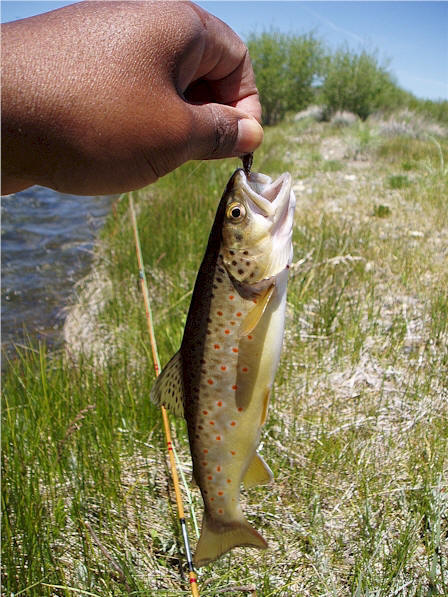 I had a frustrating first hour fishing nymphs. I caught a bunch of fish but the long rod was more trouble than it's worth.
The second hour I switched to a dry/ dropper rig and all was right with the world. The above problems still apply, but there's something about having a fish rise to your dry fly, even if they reject it at the last minute, that skews your outlook from half empty mode to half full.
Leaving the stream I had an interesting encounter with a bull. The stream is surrounded by range land but is protected from the cattle by a fence. When fishing the stream, you park at the parking area, walk through a gate, across a field and through another gate to the stream. Well, in front of the gate by my car was what I presume was a newly released bull. The original herd was to downstream quite a ways but up by my car was one of those cattle transport trucks and it appeared as if he had just released a new heard, all but this one bull decided to stay inside the release pen.
I watched the bull for a while but he didn't appear to be interested in relinquishing his spot in front of my car so I decided walk slowly toward him. As I moved forward, he started moving away. Then he stopped, faced me and starred intently. I continued to move forward but moved laterally to my left, hoping that I could still move forward without seeming threatening. I've watched dogs do this. When a beta dog meets and alpha, the beta will always approach the alpha in an indirect manner.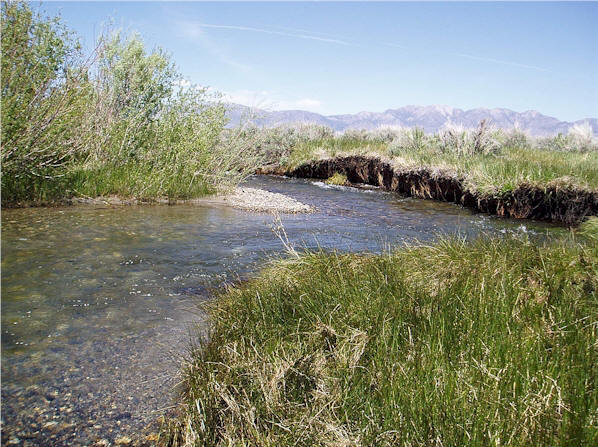 For a while the bull simply watched. I got the impression that it wasn't to happy. As I watched the bull, I noticed that the transport truck driver was watching me. He'd started to pull away from the release pen when he noticed me across the field and the bull at my car. He slowed to watch our little dance unfold. At some point I guess I had moved to the left enough to put the bull somewhat at ease. He started moving away from the car, mirroring my actions by moving forward and to his left. When I felt the bull was far enough away from the gate and that I was close enough, I made a break for it and ran to the car. Seeing that I was safely across, the truck driver pulled away and shortly there after I did the same.
June 2nd, 2006 McGee Creek, Bernard's Creek
Time: 2:00pm - 4:00pm; 4:30pm - 6:45pm
Weather: Sunny and Warm
Water Temps: Didn't check.
Water Level: McGee Creek was slighly high, Bernard's Creek was Ok. (Not sure what "normal" is)
Water Conditions: Slightly off color.
Insects Observed: Lots of Green Cased Caddis
Hours fished: 2 ; 2
# of fish caught: 5 out of 6
Method: Nymphing with a cork indicator; Dry Fly and Dropper
Set Up: 7'6" Medium Action Cane Rod Payne 100 764-2 made by yours truly, 7.5ft RIO 5x leader to first nypmh. 12" RIO 6x to second nymph. Split shot as needed 6-8 inches above first fly. 7.5ft Rio 5x leader to dry fly (EHC). 36" Rio Florocarbon 6x to beadhead poxyback bwo nymph.
Narrative:
My final fishing excursion of this year's Mammoth Trip and I was torn. Where to fish? That's a problem I'd like to have everyday, trying to figure out where to fish. The only place that really jumped out at me was Convict Creek. I really didn't feel like I'd fished Convict long enough and really felt I needed to give it another go but, to keep with the spirit of exploration instead, I opted for McGree Creek.
I've never fished McGee Creek and I had heard tell of some very large fish in this creek. When I met Bernard to fish on Tuesday it was at the McGee Creek parking lot. While waiting for Bernard to show, I ran into a fellow armed with a 7wt rod! I was intrigued and thought it worth a couple of hours of my time.
McGee Creek was a little higher than it had been on Tuesday, off color and crowded. Not nearly as crowded as I'm sure it was over the weekend but seeing 4 anglers right off the bat and 6 my entire time on the stream constituted a crowd since my past two days were spent without another fly fisher in sight.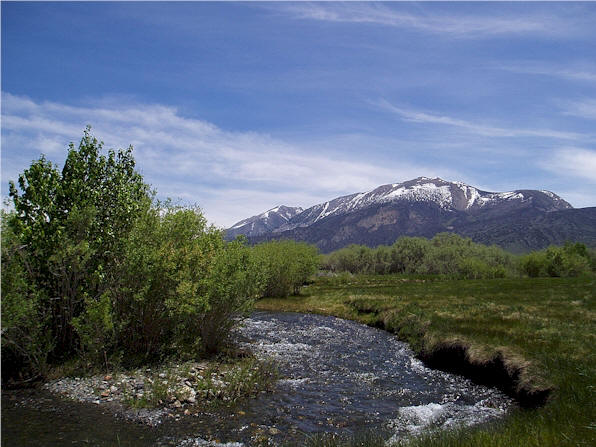 As could probably be expected on what is one of the more well known put and take streams in the eastern sierra, there was a slight Bubba Factor involved here. Two of the fly fisher's I passed on the my way downstream, where fishing the same pool when I returned two hours later.
Far downstream, as far as one could go and still be with the protected boundaries of the cattle fence, I found solitude, fast water and small fish. The wind was fierce and combined with the really fast water, it was difficult to get a good drift. When I did get a good drift it didn't seem as if the fish were particularly active. At first I started blind fishing the likely spots. I quickly tired of doing that, more so because it wasn't really working than anything else.
Instead, I started to sight fish. The conditions made it difficult but I found that if I was careful, I could actually see fish in the slightly stained water. If I was really careful I could cast to them without spooking them and if I was really, really careful, I could occasionally induce a take.
Fishing was slow and I didn't seem to be able to entice any larger fish so I moved to Bernard's Creek.
Bernard's Creek was much the same as it was on Tuesday, perhaps a little bit more off color. I fished the same dry and dropper combination that I did on Tuesday and was content to catch smaller fish until I happened to spot a larger fish stationed in a pool just above me. On Tuesday I was able to hook larger fish but they all took my dropper or sunken dry fly. I placed a split short on my header and with one cast I was into a good fish.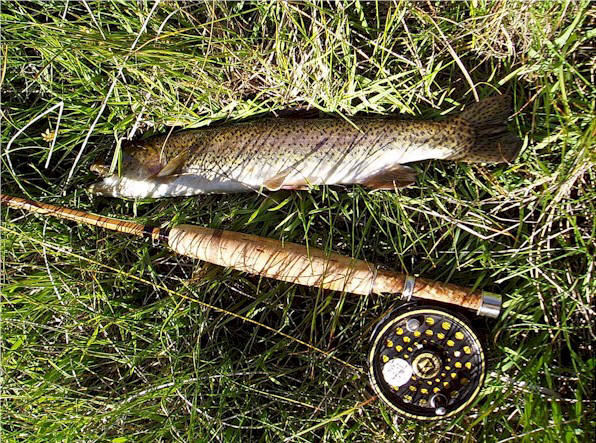 I quickly landed the fish and for the next half hour stalked the undercut banks, looking for a big'un. I didn't find any, so I pulled the shot off and continued dry fly fishing. This was very consistent even though the fish tended to be smaller. That is until I came to this one particularly long run.
Keep in mind that a " long run" on this stream is probably about 13 feet. I had picked up a nice Brown Trout at the top of the run and really didn't expect much more. I made a few more casts and picked up a tiny fish or two further down stream and then made several more drifts of my fly down the run and around the next bend. I was about to move one when out of nowhere a huge fish brought it's entire body out of the water. You can't imagine the sound such a huge fish makes on a stream no wider than a bath tub when it's body crashes on to the surface. It was an incredible sight. My Elk Hair Caddis wasn't going anywhere.
Immediately the fish dove for the nearest undercut bank. I steered it away, only to have it dive for the bank on the other side. This pattern continued until I was able to zig zag the fish up stream to me. I'd only seen the fish once and that's when it had exploded from the water. I didn't know what type of trout it was, rainbow or brown. I suspected brown as the browns seemed to be more aggressive today but as I pulled the fish to my feet he slipped off- another Long Distance Release.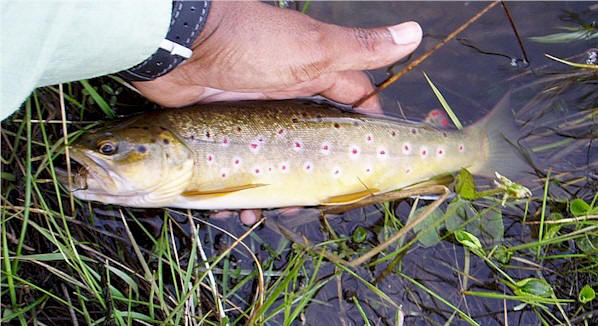 Previous John Muir Wilderness Chronicle Next John Muir Wilderness Chronicle