May 25th, 2012- Hot Creeek Ranch, Hot Creek, Ansel Adams Wilderness
Time:
Weather:
Water Temps:
Water Level: Normal
Water Conditions:
Moon Phase:
Insects Observed:
Hours fished:
# of fish caught:
Size of fish caught:
Method:
Set Up: Medium Fast Action Cane 8ft 5in 5wt made by Erik Peterson and myself (mostly Erik) on Hot Creek, Medium Action Cane 8ft 4wt rod made by me on lakes.
Flies: Cripple Caddis, Beadhead Gold Ribbed Hares Ear Wet Fly
Narrative:
This year the Eastern Sierra saw it's best memorial day fishing in years. From an active fish standpoint, both Hot Creek and the high mountain lakes were on fire. Relatively little snow and little run off left the high country lakes and caldera streams primed for fishing.
Roger and I spent our time between Hot Creek and a high country golden trout lake near Tioga Pass. For the first time in several years, Hot Creek was again dry fly fishing only on this weekend. The hatches really weren't there but the fish where looking up and we were able to catch fish up to 17 inches by sight fishing and prospecting. It was a blast!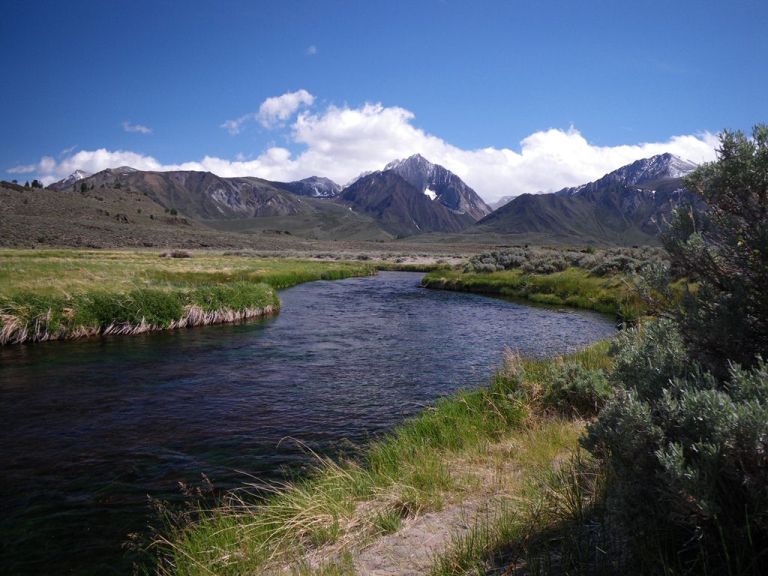 The numbers were high and fish were caught most of the day, with fishing slowing a bit in the afternoons before picking up again in the evening. We stayed low and were able to pick up fish bank to bank. For me, the CDC caddis was the top fly, followed closely by a CDC Emerging PMD tied by Erik Peterson. The only reason Erik's fly came in second is that I only took 2 or so off his tying desk and quickly lost those to good fish.
As always, we chose to fish mostly the lower section of the private water but on our last day, we did fish the upper section. The upper section can be a blast to fish and does have its share of big fish but on this Memorial Day, the wind was horrendous and the bluffs slightly more appealing.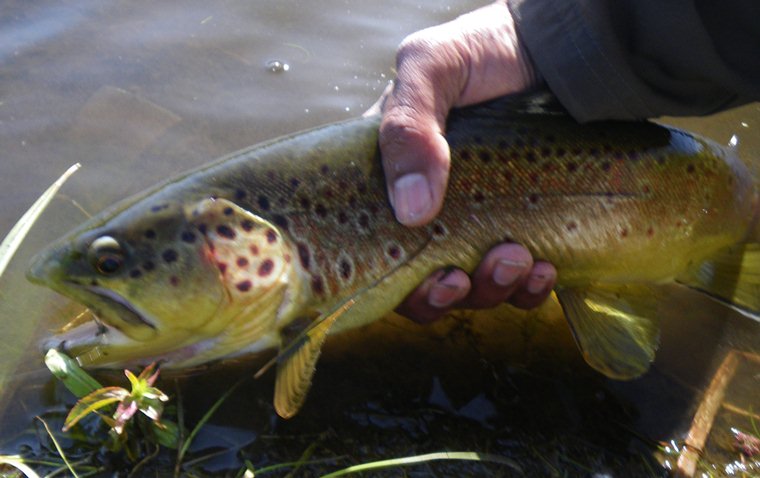 Saturday and Monday were spent on Hot Creek but Sunday was spent fishing for Sierra Goldens.
It's was only my second trip to this particular Tioga Pass lake but Roger had been there several times. My first trip I was forced to park my car a mile from the trailhead. This time Roger drove and I was impressed by how easily his Rav 4 worked its way up the steep, sandy hill which had prevented my Corolla from reaching the trail. I was impressed not because my Corolla couldn't traverse the sandy obstacle but because I've seen a Jeep struggle to top this same hill.
The trail to this lake is a tough one. The first half mile is extremely steep and the rest of the trail doesn't level out much. The hike to this lake can take 2 to 3 hours depending on your fitness. In the rating scale of "easy", "moderate" and "difficult", I would rate it as "more difficult". "Hors Categorie" if you will- at least the first half mile of it. It's not a trail to be taken lightly by those short on fitness.
At the lake Roger and I initially fished the inlet. Endless years of winter run off have deposited silt at the base the inlet forming a semi- circular flat with a corresponding drop off.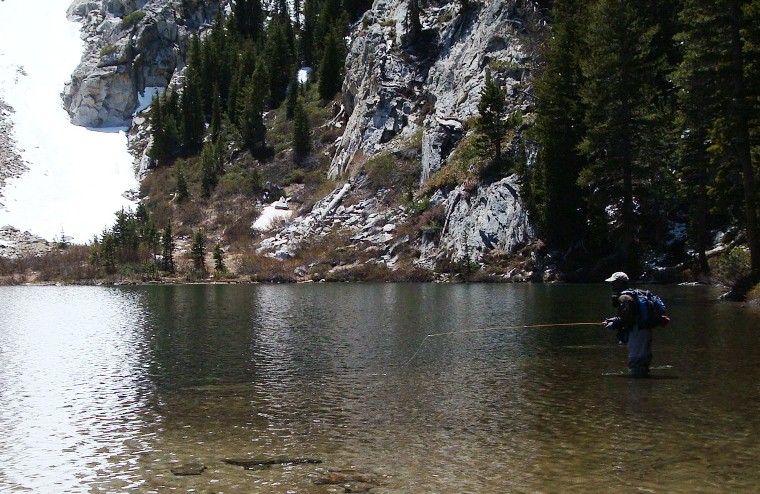 Fishing with Roger is always a blast. For years we unknowingly shadowed each other- one of us visiting a lake the week before or after the other. I must be getting old because I can't remember when we finally met but we've been fishing partners ever since that day. We always have great fun and usually fish two different methods. I usually fish a floating line with a dry fly or beadhead nymph, while Roger fishes ala Denny Rickards with an intermediate line and weighted nymph. Interestingly, we usually don't see one method out-fishing the other. At least not that I've noticed. This time was different.
Things started off slowly. I was positioned to the right of Roger and casting to cruising fish. I was clearly seeing fish cruise the flat that extended beyond our little semi-circle while Roger was fish over the deeper drop off. We were both seeing a little action but nothing consistent enough to consider a pattern.
Then we switched positions and Roger started picking up fish immediately. Whether he actually did or not, it seemed to be like Roger was catching a fish on every cast. On the second or third fish I stopped to study what he was doing. Roger was fishing an intermediate line, which is supposed to keep the fly in the strike zone longer but he was hooking fish almost immediately upon retrieve. So that didn't seem to be the deal breaker.
The intermediate line was heavier than what I was using so perhaps it got to the right depth sooner. He fished from a little bit farther back and we knew that these fish were pretty spooky, so that might have made the difference but I wasn't convinced. I was casting to sighted fish and could see their reaction. They didn't seem spooked by me being too close. I watched his retrieve; he seemed to be retrieving slightly faster than me. After about the 5th consecutive fish Roger waded back to shore to warm up and relax. I waded back into my original position (read: HIS position) and attempted to duplicate his success. It didn't work. I just couldn't duplicate Roger's success.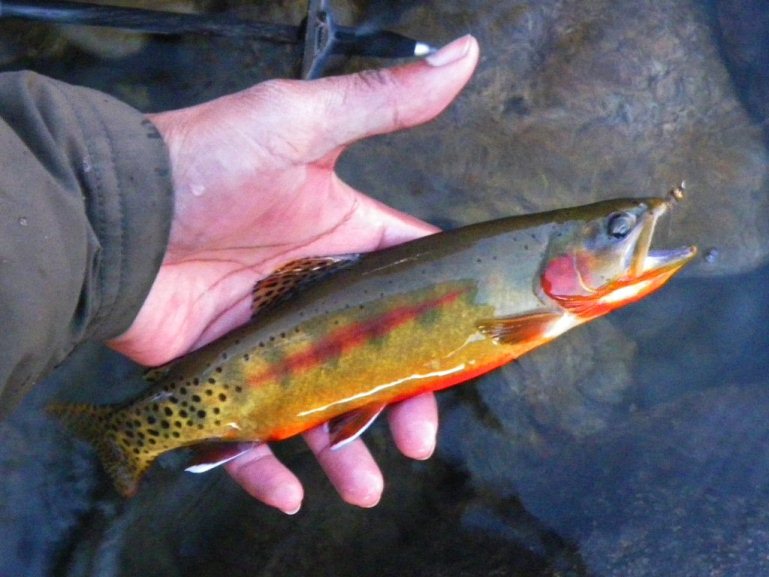 I was getting strikes and the occasional fish but not with the success that I usually hope for. I'd spot a fish and sometimes it would strike and other times not. It was late in the day and we were on our way out, when we figured out the exact combination of depth and very fast retrieve that would induce a strike.
From the rocky shoreline we could spot cruising fish. A fly cast at a fish would get a look when it sank to the right depth but that's about it. It wasn't until we induced action in the fly using a very fast retrieve that we were able to duplicate the success that Roger had earlier. The fast retrieve for these golden trout was an eye opener but so was the fact that we weren't exclusively catching them at the inlet. In the past, with the wind chopping up the water and little fishing success it was difficult to confirm which areas of the lake held active fish. In fact, Roger had almost given up fishing this lake in the past but was convinced to give it one more try based on the limited success of my first trip.
Now, with a plan of action we were able to confirm that the fish in-fact cruised much of the shoreline. This trip was a real eye opener. The active fish seemed to occupy more of the shoreline than we had original suspected and preferred a retrieve very atypical for Golden Trout. Lesson Learned.
Previous John Muir Wilderness Chronicle
Next John Muir Wilderness Chronicle