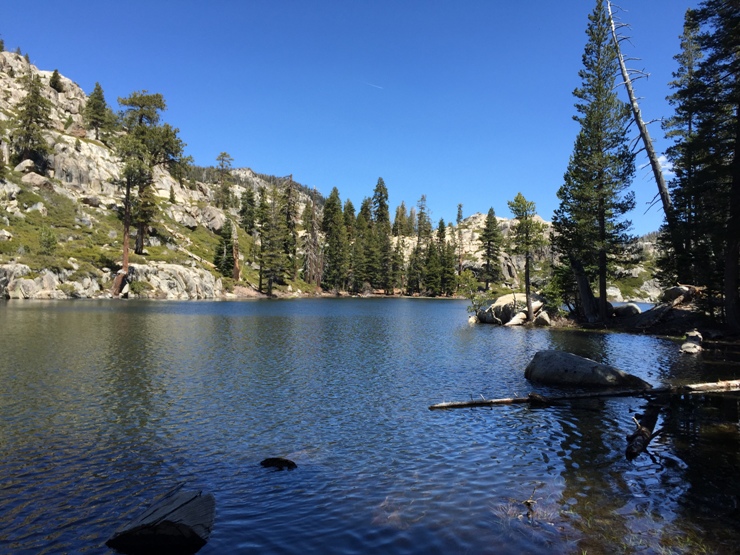 What can I write about Camp Lake that I haven't written before? If you've followed my chronicles since the beginning, you know that I have a long history with this lake. You could say that I cut my fly fishing teeth on this lake and helped about a dozen others do the same.
I started fishing the lake very soon after I started fly fishing. My girlfriend (now wife), her sister, her sister's boyfriend and I were camping near by; we needed a short day hike and I wanted to do some fishing. The ranger at the Summit Ranger station suggested Camp Lake. It fit the bill but in retrospect was an odd recommendation. I've not seen many people fish Camp Lake over the years. Bear Lake is the fishing lake and less than 30 minutes up the trail. I guess the ranger looked at our motley crew and decided Camp Lake was as far as we'd make it.
I caught a couple of tiny, tiny brook trout that day. I don't remember my return trip to the lake but over the years it became my go to place for teaching new fly fishers. Over the years, many great friends have helped to create many great fishing memories here.
If you're familiar with the chronicles, you know this.
I've written before that the second weekend of June meant "brook trout on dry flies all day, everyday." This is no longer true. Several years ago Fish and Game allowed the lake to die and then planted Rainbow Trout. I thought this was a mistake, believing that the short hike to the lake and it's ample and eager brook trout population made for a unique high country fishing opportunity for beginners. I've since seen fish freely rising in June and have now caught fish in April. It may still be a great beginners lake. Only time will tell.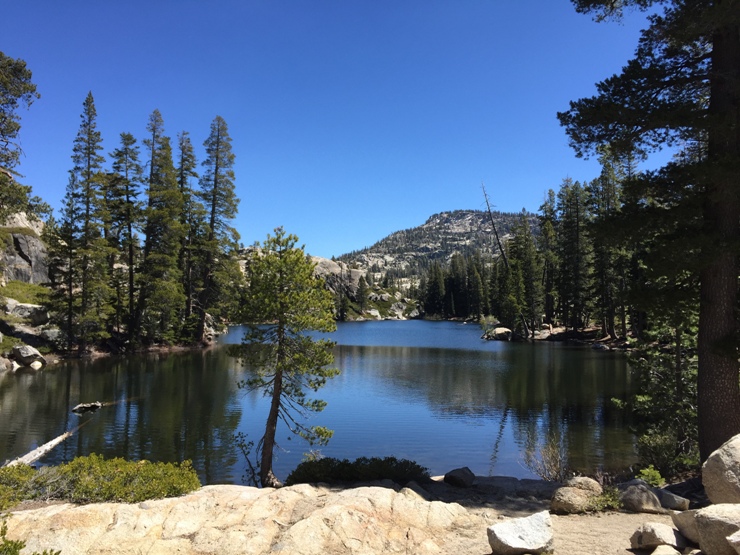 This year the drought in California has been particularly bad- with little rain and even less snow. I'd been wondering about the conditions in the lower elevation high country for weeks. Wondering if the Crabtree Trailhead might be open. When I called the Summit Ranger station, I was a bit taken aback with the ranger's matter of fact "yes". Usually, the rangers at this station hem and haw about the opening of this trail. Warning people of snow on the trail in June when in fact there is usually very little. This time there was none of that. No warnings about the trail, nor the road, nor the weather. Just a matter of fact, "yes", like the trail had never closed.
Conditions on the trail were encouraging for a good trip. Less so for a good fishing season. It was the end of April and there was no snow on the trail and little on the higher peaks. There were no mosquitoes. The lake was full and somewhat turbid. Visibility was poor. There were no fish rising. It wasn't an encouraging dry fly fishing scenario but sticking with tradition, a dry fly is what I put on.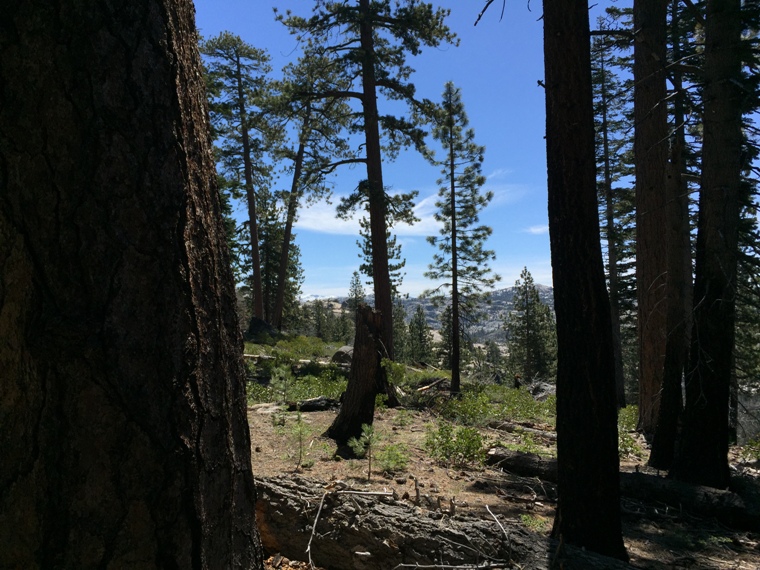 Historically a Black Ant cast to underwater structure is all it takes to catch fish here. I didn't think the rainbows would be as eager as the brook trout but when I saw a rainbow cruising in a familiar cove, I thought it worth a shot.
The rainbow was cruising head down, rooting around in the muck a bit and occasionally opening it's mouth. I figured it was taking midges but shot out a cast or six with the Black Ant to see if it would react. It didn't. The route it was cruising took it out of the cove for several minutes before returning so I took that time to switch my dry fly to a pair of nymphs- my standard softhackle hare's ear and a Stillwater nymph. The fish returned, this time instead of ignoring the flies, the fish rejected the nymphs over and over. The rejections were somewhat encouraging. I just thought maybe I needed to find more agreeable fish.
I traveled the lake counter clockwise. There's a lot of fallen timber along shore that typically hold fish. A large rock juts out into the lake and from there the shoreline steepens, the water deepens and the timber is mostly replaced by granite. It's here where I finally found fish. The first fish was caught casting out to deep water just past a protruding rock on the far side of the lake. I cast a double GRHE rig, one large and one small and let it sink to a count of 25 before starting a slow retrieve. I felt a strong "thump" travel up the line and soon I was into my first fish of the season- a nice rainbow! A sign of the changing times- the largest fish I've caught here took the smallest fly I've fished here.
The rainbows here seem to be doing well. Not a surprise really, given the abundance of damsels and dragons in the water and their disinclination to overpopulate a lake like brook trout do. I made a few more casts to the same area before taking a few steps down the bank. Similar water, similar structure, similar results. This time taking another fish but on the larger fly. Wow! Tail-walking fish on Camp Lake!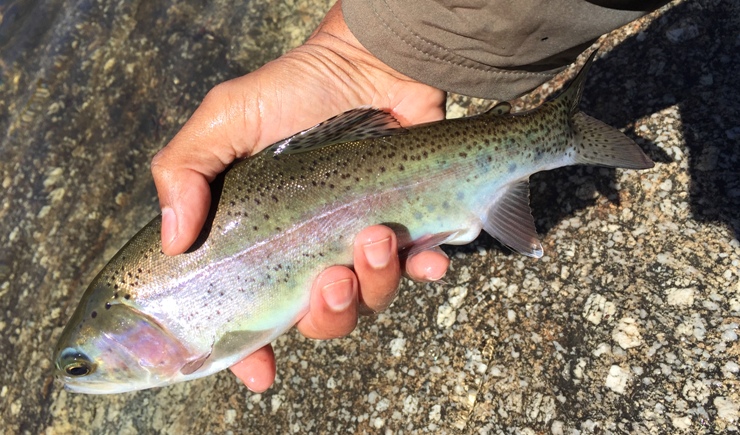 I was able to take several fish this way before heading home. There are interesting times in store for Emigrant fly fishers this year. This trip left me with several questions:
The Good: Will the mosquitoes come out in force early, thereby allowing for devil bug free backpacking in June and July?

The Bad: Will the summer heat arrive early (June/July) and shut fishing down?

The Ugly: Will the thunderstorms come early (June/July) again this year, as they did two years ago?
I'll be back in early June to check on the Emigrant again and then again in July for an extended backpacking trip. Hopefully it will once again be a summer of exciting Emigrant fishing and large fish!