August 26, 2011 Mokelumne Wilderness
Weather: Sunny and Warm
Moon: New Moon in 3 Days
Water level: Normal
Insects Observed:
Hours Fished: 5
# of fish Caught: I don't think I'll call them "caught".....
Size of fish caught: 8 to 14 inches maybe.....
Method: Luck
Set Up: 8ft 4wt Medium action bamboo rod made by moi.
Flies: Beadhead GRHE, Bird's Nest
Narrative:
I've got a trophy trout lake a stones throw from my house. A stones throw of course being any place where I don't have to drive to the Eastern Sierra or up to Mt. Shasta. That being the case, I decided that I should be doing more day trips to this lake; so this weekend, that's exactly what I did.
I've only ever backpacked into the lake so I didn't quite know how long a day hike it was and was surprised to find that it was on par with day hiking into Cottonwood Lakes. I'm not naming the lake because I still like to live under the illusion that it is still the "secret" it was when I discovered it over a decade ago but truth be told, this place gets hammered. In fact, it was hammered just before my visit. On my way up I ran into two fellows that told me that no fewer than 8 folks had been on the lake during the week, most fishing with bait. (Note he said during the week, not just on the weekend. That's hammered in my book.)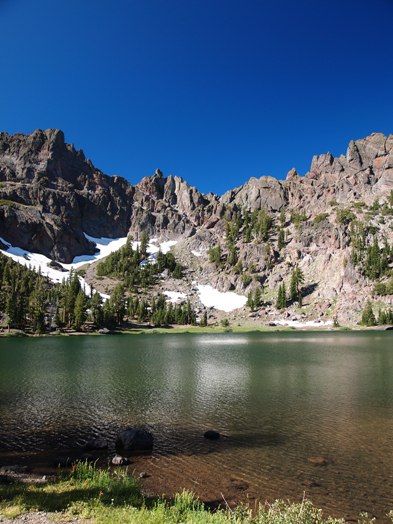 Did this affect my fishing? It would be easy to blame my mediocre experience on throngs of bait fishers taking their "limit" but I tend to think my mediocre fishing experience was due to the rising heat, falling barometric pressure and my refusal to do what I probably should have done to catch fish. My assessment? The fish were deep and even though I still carry around with me two mini lead heads, I loathe fishing deeper than a standard beadhead nymph can sink in about 60 seconds.
Had I fished the mini lead heads, I suspect I may have caught fish but I "stuck to my guns ", "played the martyr" or whatever other catch phrase you want to use to say I searched the bank looking to sight fish to active fish.
I arrived on the lake just after 9:30 am and was surprised to find that I was the only person on the lake. The fellows I'd spoken with on my way up had told me that there were 3 people still camping on the lake but they were nowhere to be found! I took advantage of my good fortune and began to immediately walk the lake looking for active fish. There were very few. There was the very occasional surface strike but not much else.
I decide to start prospecting to likely areas with likely flies. The lake has scuds so I started with my soft hackle hares ear and a pheasant tail, both of which have done well for me here and switched to a Stillwater nymph, eventually switching to a green bird's next which does an amazing job of imitating the local scuds.
To quote the Brits, "if I'm honest", all or at least most of my fish this trip were caught by accident. The first two were at least. I'd just seen my first fish and had just changed to a new fly. I'd missed the fish's first pass and was letting out line to make another roll cast; the fly was practically at my feet when a fish grabbed it. I tried to roll cast the line out and pick up the slack but I did so too slowly. The Keystone Kops were in the house.
I laughed and made another cast. One issue that I continually had on this trip was my line wrapping around the handle of my Hardy Featherweight reel. (An issue I never had with my inexpensive Martin Classics I might add.) I cast out the line and started my count down. I was looking down, untangling my line, still continuing down when on the count of 30 I felt a strong tug. Taking the fly on the drop, the fish hooked itself. Not quite Keystone but not really astute fishing.
I worked my way around the lake looking unsuccessfully for working fish until just after lunch when the sighting of another fish had me confidently plying the water. This time I did get two legitimate strikes but I missed both fish. The next landed or near landed fish was again hooked accidentally, this time as the line was accelerating and lifting off the water for the back cast. It was a decent fish as well, maybe 14 inches; but I lost it just as it reached my feet.
That was the extent of my fish sighting and catching on this trip. I was tempted to find out if fish would cruise the flats in the late afternoon as they didn't on my last camping trip here but with the relatively slow day, I decided to call it a day.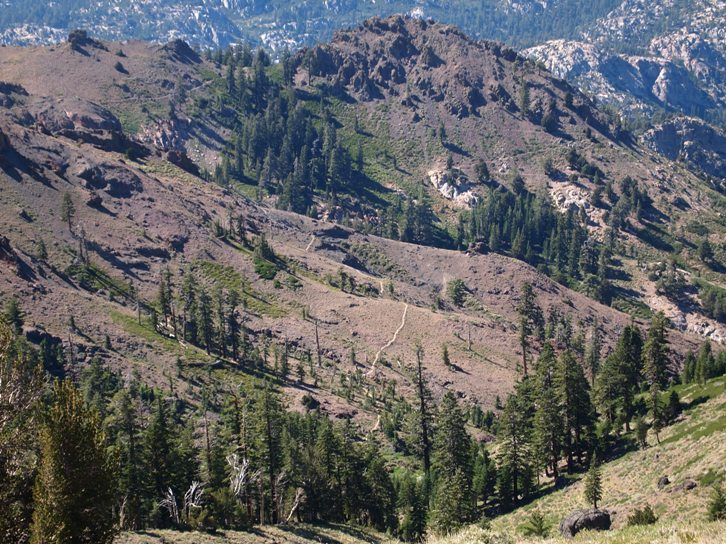 Previous Desolation/ Mokelumne Wilderness Chronicle